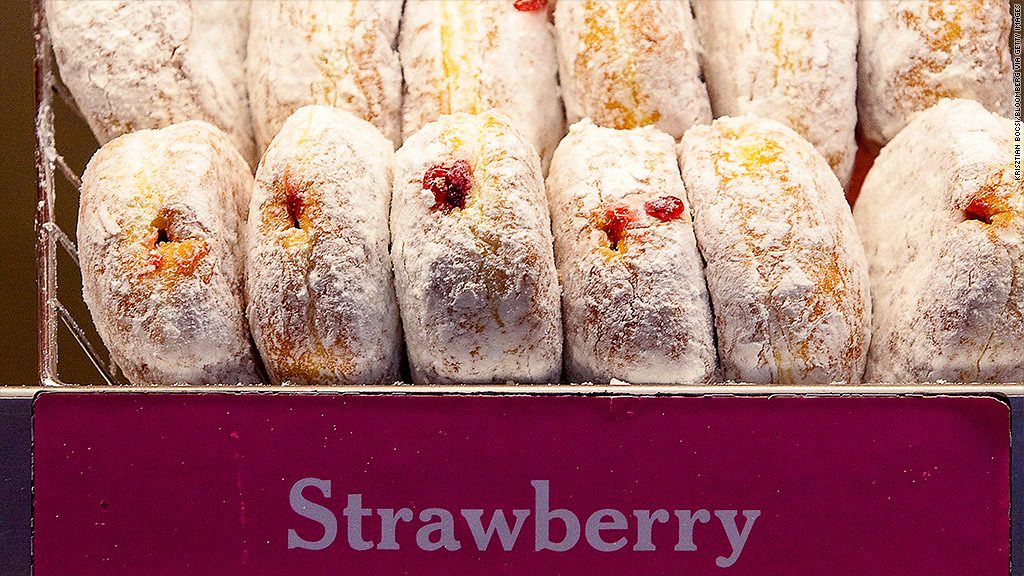 Dunkin' Donuts is dropping titanium dioxide from its powdered sugar donuts after pressure from a public interest group who argued it is not safe for human consumption.
Titanium dioxide is used to make the powdered sugar appear brighter. It is also used in sunscreen and paints.
The group As You Sow argues titanium dioxide that can cause DNA and chromosomal damage when consumed. The decision by Dunkin' Donuts (DNKN) was recently disclosed by the advocacy group.
"This is a groundbreaking decision," said Danielle Fugere, president and chief counsel of the group. "Dunkin' has demonstrated strong industry leadership by removing this potentially harmful ingredient from its donuts."
The group claims that titanium dioxide is a nanomaterial, which is not regulated or prohibited by the Food and Drug Administration. But As You Sow argues that there is not enough information on their effects on humans.
"Asbestos, also a nanomaterial, was used before its harms were fully understood, leading to a costly health crisis," the group said.
Dunkin' Donuts claims that titanium dioxide "does not meet the definition of 'nanomaterial' as outlined under FDA guidance." But it said nonetheless it is making the change to remove the chemical from its donuts.
Related: Coke to drop flame retardant from drinks
As We Sow has been introducing shareholder proposals at companies calling for the removal of titanium dioxide from various products. Such a resolution was supported by about 19% of Dunkin' Brands' shareholders last year.
The group released a letter sent by a Dunkin executive saying it has reformulated the powered sugar and was working on a schedule to roll out the new recipe.
It led As We Sow to drop a similar shareholder resolution from the company's upcoming proxy.