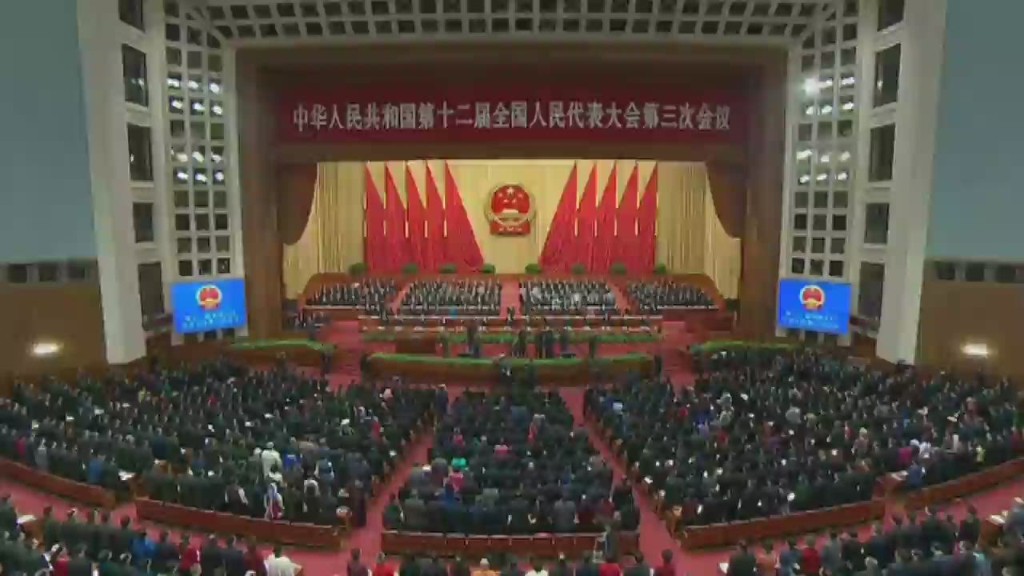 Want to meet a billionaire? Head to Beijing, where more than 100 are taking part in the annual gatherings of China's rubber-stamp parliament.
The billionaires are part of a group of extremely wealthy Chinese chosen to serve in the National People's Congress, or the Chinese People's Political Consultative Conference, the country's top political advisory body.
How wealthy? 203 of the lawmakers rank among the richest 1,271 people in China, according to Hurun Report, which publishes the China Rich List.
Tencent (TCEHY) co-founder and CEO 'Pony' Ma Huateng is a delegate. He's worth $17 billion. Xiaomi founder Lei Jun, with $14 billion in the bank, is on the list too.
The wealth of China's lawmakers dwarfs that of their American counterparts. The 10 richest Chinese lawmakers are worth more than $184 billion, while the wealthiest 10 members of the U.S. Congress together account for a mere $1.9 billion, according to data from the Center for Responsive Politics.
Darrell Issa, the wealthiest member of Congress, boasts a net worth of $448 million. He would be the 163rd richest Chinese lawmaker.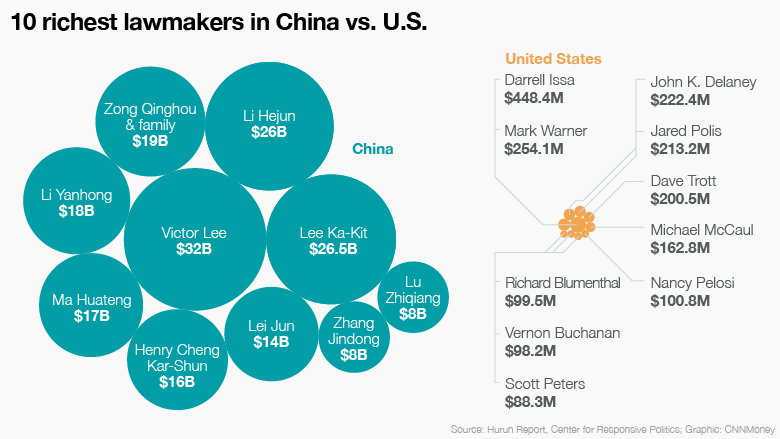 What exactly are the billionaires doing in Beijing? The National People's Congress is long on pomp and circumstance and short on legislative deliberation; while some voting takes place, the Communist Party's proposals are always approved.
But the meetings give delegates a chance to rub shoulders with some of the Communist Party's most powerful members. Those lobbying opportunities are highly valuable in a country where the party keeps an iron grip on commerce.
Of course, not every Chinese lawmaker is a business titan. Chinese state news service Xinhua has been quick to point out that farmers and factory workers make up 13% of delegates. One NPC delegate, Xue Haiying, makes $200 a month as a street cleaner.
"China's legislature is not without room to improve its composition, but it has been making big strides in recent years," Xinhua said in a recent report.
Still, the wealth of the lawmakers is staggering. The 203 delegates ranked by Hurun have a combined net worth of $463.8 billion. That's more than the annual GDP of Austria, Colombia or South Africa.
Observers might expect the riches on display to make top Communist Party officials blush. So far, there are no red cheeks.
"Good entrepreneurs, who would be called job creators by some, should not be excluded from the process just because of the profits they reap," Xinhua said.