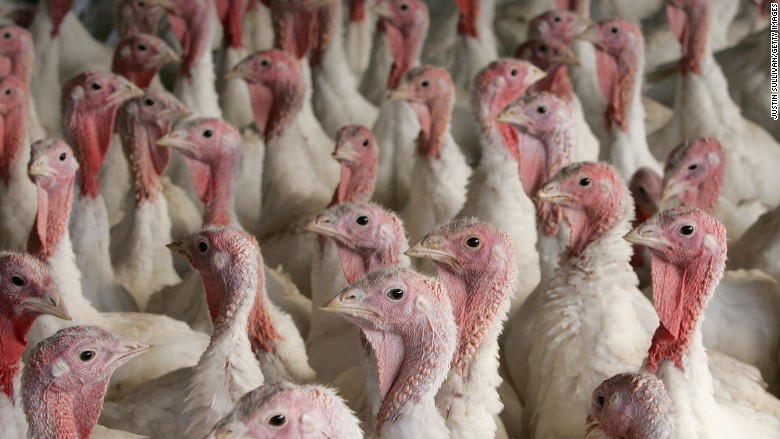 Shares of Tyson and other poultry producers fell Wednesday after government officials confirmed cases of bird flu in one flock of turkeys in Arkansas and two flocks in Missouri this week.
While Arkansas is home to Tyson's headquarters, the company said that none of its own flocks have been affected.
Tyson (TSN) stock fell 5%, while Pilgrim's Pride (PPC) shares slid nearly 7%, and Sanderson Farms (SAFM) saw a drop of almost 6%.
All of Tyson's turkey operations are actually in Iowa, a spokesman said.
Still, Tyson has been more diligent with its bio-security measures since the Department of Agriculture first reported a presence of bird flu in a California commercial flock in January. Tyson tests all of its flocks for viruses before they leave the farm.
Sanderson Farms says that none of its flocks are infected either. But Butterball, owned by parent company Seaboard (SEB), said that a "limited number" of turkeys on farms it uses in Missouri and Arkansas had been diagnosed with bird flu.
It is safe for people to eat poultry infected with bird flu as long as it is cooked properly, according to the World Health Organization. Risk of infection comes from direct exposure to infected live or dead animals.
Pilgrim's Pride did not immediately respond to request for comment from CNNMoney.