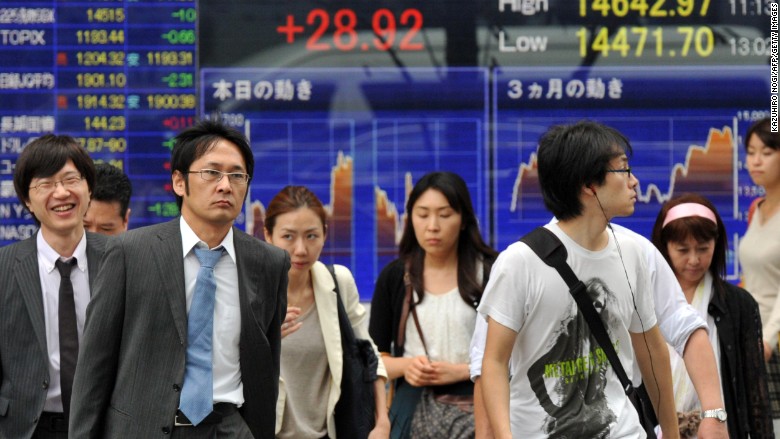 How high can the Nikkei go? 19,000? 20,000? Maybe even 25,000?
Japan's benchmark stock index has been on a tear in recent months, rising to its highest level in 15 years and climbing above 18,000 points.
Along the way, the Nikkei has outperformed many world markets. The index is up 8.4% this year, while the FTSE has added only 2.4% and the S&P 500 is flat.
The obvious question is ... why?
The stock answer -- a weaker yen -- doesn't apply this year. While the currency's slide has been a major factor in the Nikkei's improved performance since 2012, the yen is flat against the dollar so far in 2015.
Underlying economic strength is out, too. Japan is flirting with a return to deflation and Prime Minister Shinzo Abe has struggled to implement crucial structural reforms. After a sales tax hike in April, Japan's economy grew by exactly 0% in 2014.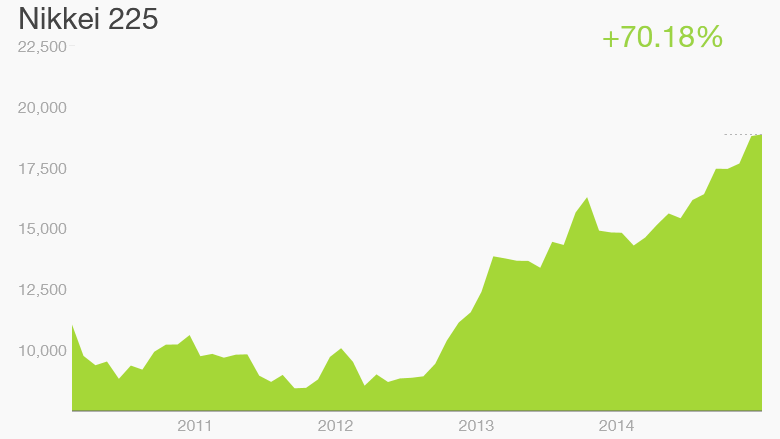 Instead, investors are looking to a different set of facts: Japanese stocks are still relatively cheap, corporate profits are at record highs and the central bank is willing to pump more money into markets, including buying shares.
Many major exporters -- Toyota (TM), for example -- had banner years in 2014, and even legacy electronics firms like Hitachi, Panasonic and Canon were able to hike profit forecasts.
A strategy change at Japan's $1.2 trillion pension fund has also helped. Last year, the Government Pension Investment Fund decided to reduce its bond purchases and roughly double its holdings in foreign and domestic stocks.
The role of the yen remains a background factor. Despite its relative stability this year, the currency has declined sharply against the dollar and is trading near a seven-year low. That means Japan's exporters have been getting a nice profit boost when they sell goods abroad.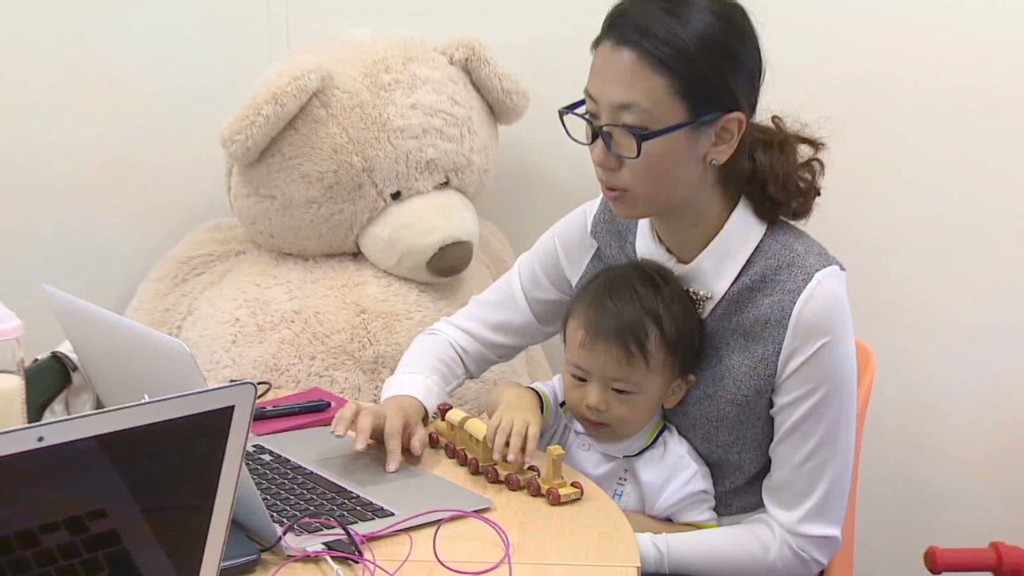 Some investors are questioning how long the rally can last. After all, the Nikkei has popped over the 20,000 point mark on several occasions, only to crash back to earth. In the late 1980s, a particularly notable bout of "irrational exuberance" pushed the index to an all-time high near 40,000.
The best chance for sustained success is Abenomics, the economic revival plan championed by the prime minister. If he is able to push through reforms, and force Japan Inc. to break some of its bad habits, markets will have a real reason to cheer.
While legislation is pending, the central bank will do its part. Many analysts expect the Bank of Japan to expand its stimulus program further in coming months.
Pity Japan's salaryman: Inside a brutal 80-hour workweek