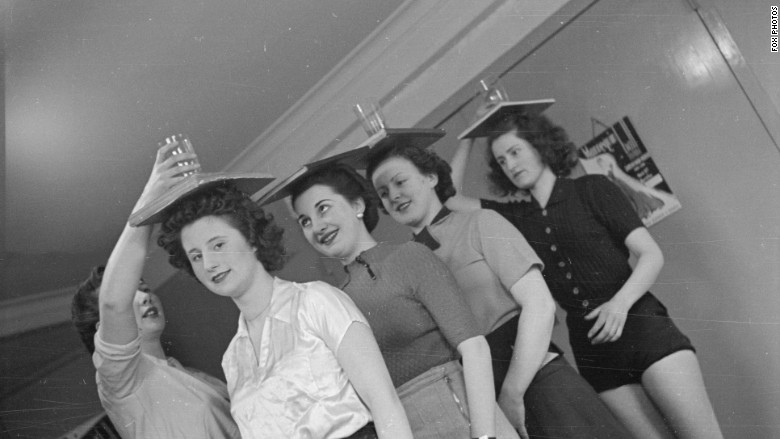 People have spent so much time in recent years lost in their virtual lives that they've forgotten how to actually communicate and behave in the real world.
That's why, after spending years shielded behind computer screens and user names, modern professionals are seeking out more traditional advice on manners and social niceties.
"People are really great with technology and social media, but unfortunately, many can't communicate effectively because they've been glued to electronics," said Rachel Isgar, an etiquette consultant who teaches classes through her business Please Pass the Manners in Los Angeles. "But great manners never go out of style, and respect is so important in getting ahead."
When Isgar officially launched her business three years ago, she saw a lot of professionals who were anxious about what to say and how to handle in-person interactions.
So she developed corporate etiquette workshops that focus on making a good first impression. One of the biggest areas of discussion is the business lunch, for which Isgar goes over table manners and protocol, like whether to order one or two courses (take a cue from the person who has more power) and knowing what to order (nothing messy like spaghetti, and never the most expensive or least expensive item on the menu, she said).
Related: How much should you tip housekeeping? A travel tipping guide
Elaine Swann, another etiquette expert in Los Angeles, also works with professionals on knowing how to work a room, particularly at important networking events. She said while people feel comfortable talking about work, one of the things they get most hung up on is making small talk. In her classes, she teaches easy conversation starters and basic etiquette.
"I tell people what they're supposed to do if they're holding a wine glass in one hand, a plate of food in the other and someone comes up to shake your hand, or if you're stuck in a corner with one person and you want to get away," Swann said. "I give specific advice and tools so that they're confident enough with all the small things that they can focus on why they're really there."
There's another big demographic looking to brush up on professional etiquette: job seekers. People who have lost jobs and mothers looking to re-enter the workforce have sought out help from Dianne Marsch of the Etiquette School of Manhattan.
"I work with them to go over how to maximize their strengths and minimize their weaknesses, and of course the basic topics like introduction skills and greeting skills that are crucial to their futures," said Marsch. She also has women bring a suitcase filled with clothes so they can identify what looks best on them.
"I'll share what I suggest for them, since the rules have changed and what's acceptable in the workforce now is different."
Related: Re-gifting is fine...if you follow these rules
Marsch also runs a class for nannies in Manhattan so that they can teach proper etiquette to the children they care for. The course, which takes place on weekends, teaches the nannies proper table manners and conversational skills and how to impart them on kids, how to eliminate temper tantrums, basic social and behavioral skills and how to encourage shy children.
But parents without manners-certified nannies send their kids to etiquette coaches for help.
Swann said she often sees kids who can't complete a declarative sentence or make eye contact when their parents introduce them, so shows them how to feel comfortable making conversation. Isgar said that when parents ask how their child's day at school was, so many kids simply give a one-word response and go back to their phones. She said she teaches them to give more feedback and ask questions in return.
Marsch focuses on explaining that there are human feelings behind every username and hashtag. She said she uses Kanye West and his rudeness to Taylor Swift as an example to teens.
"I try to teach everyone that niceness and kindness are more than just elementary concepts," she said.