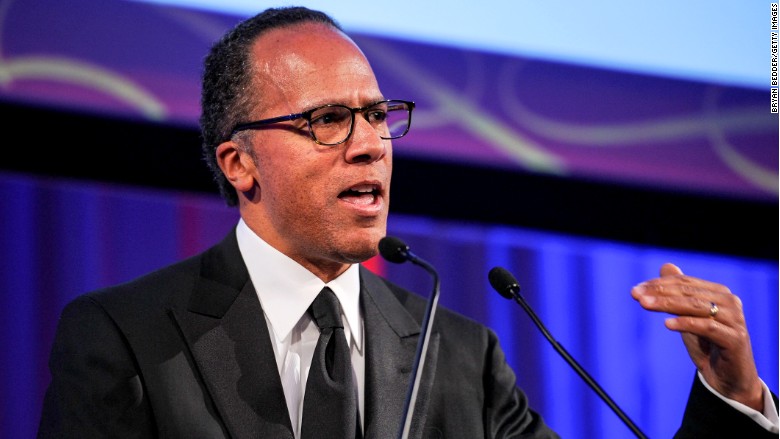 There hasn't been a lot to celebrate at NBC News lately. But on Tuesday the daily network-wide editorial meeting began with a loud round of applause for Lester Holt and "NBC Nightly News."
Holt was coming off his best week in the nightly news ratings since being thrust into the anchor job on Feb. 9, when Brian Williams was benched because of an ethics scandal.
NBC News President Deborah Turness announced the ratings results in the 9:30 a.m. meeting and congratulated Holt, executive producer Pat Burkey and the entire staff. It was a moment of triumph for Holt -- and another sign that the troubled news division is coalescing around him.
NBC executives may decide to rehabilitate Williams and let him return to his "Nightly News" chair at the end of his six-month unpaid suspension in August. Some viewers say they're protesting the show until Williams resumes anchoring. Their rallying cry on Facebook is "Bring Brian Back," or "BBB."
But those complaints have been drowned out, because for over a month now, Holt has held his own and, with one exception, kept "NBC Nightly News" #1.
Related: Lester Holt, NBC's marathon man
"This makes it impossible for them not to give it to Lester, if this continues," one longtime NBC staffer said after Tuesday's applause in the newsroom.
An NBC News spokeswoman declined to comment. The news division is in a state of suspended animation because a new chairman, Andy Lack, is about to take over. There is incessant speculation about Lack's plan for "Nightly News."
Lack aside, in interviews this week more than a dozen NBC staffers, senior and junior alike, said there's more support internally for Holt than for Williams. He's seen as a stabilizing force.
"There's definitely a sense of, 'How can you deny this guy?' People want to see Lester succeed," said a fellow anchor.
Related: CNN/ORC poll: 52% say Brian Williams should be allowed back on the air
At the same time, there are many Williams skeptics inside the building. "The scandal has proved to be something of a release valve for resentment that had been building toward Williams," New York magazine's Gabriel Sherman wrote last week, so "it could make the climate at NBC News inhospitable to his possible return."
Several of the NBC staffers interviewed for this story (all of whom spoke on condition of anonymity) agreed; others said it's less about anti-Williams sentiment and more about pro-Holt sentiment.
In interviews, "tireless" was the word used most often to describe Holt. He has been Williams' main back-up and the anchor of the weekend "Nightly News" since 2007. "He has built up so much goodwill over the years," said a longtime colleague.
Holt has been doing double duty for years, since he's also the co-host of the weekend "Today" show. When Turness held a champagne toast for Holt in 2013 to mark his tenth anniversary at "Today," he modestly joked about some of his weekend producer colleagues who had gone on to higher-profile weekday jobs.
In some ways, it's a classic narrative -- the humble, well-liked "second banana" finally gets a chance to step up. But it's complicated at the same time.
NBC executives are well aware of the racial context. Williams is white; Holt is black. Many news stories have pointed out that Holt could become the first African American to permanently solo-anchor an NBC, ABC or CBS nightly newscast, thereby becoming the "face" of the news division. Or not, if Williams returns to work.
Any handoff from Holt back to Williams could be fraught. Holt might seek employment at another network once his contract expires. It's not known when Holt's contract comes up.
For now, Holt has avoided saying much about the awkward situation. He laughed off a TMZ cameraman who approached him outside Rockefeller Center and asked, "What happens if Brian comes back? Are you guys going to duke it out?"
And Lack dropped no hints about his long-term plan when he visited NBC on the day of his chairman appointment last Friday.
The installation of Lack led some people inside and outside NBC to predict that Williams will eventually be back. That's because the two men have had a close relationship for a decade, dating back to the early 1990s, the first time Lack ran NBC News.
But others -- including top executives at the company -- dismiss the idea that Lack has been brought aboard to rehab Williams.
"Ultimately this is not just about Brian. This is about 'Nightly News' and the whole news division," said a veteran NBC News staffer.
Agents and executives outside NBC have speculated that Lack's task will be to convince Williams to step aside gracefully.
For some "Nightly News" staffers, it's been gratifying to see that the newscast has maintained most of its lead over ABC's "World News Tonight with David Muir" even with a substitute anchor.
(The ratings resulted in this Washington Post headline on Tuesday: "Do anchors matter? NBC Nightly News doing just fine without Brian Williams.")
Some people at NBC caution that it's hard to tell exactly what the ratings signify. Viewers might be yearning for Williams to come back, but so loyal to NBC that they're watching Holt in the meantime. Or they might genuinely like Holt more. "We need more research," one executive said.
In the months before he was suspended, Williams was successfully fending off Muir in the key demographic of 25- to 54-year-olds. NBC was ahead of ABC by 189,000 viewers in the demo on Williams' last week.
Since then, the so-called gap has been tighter -- NBC was just 50,000 ahead on Holt's first week filling in, and ABC beat NBC (by a mere 17,000) on Holt's second week.
But during Holt's third and fourth weeks on the job, the gap has been 90,000. And "Nightly" has stayed #1 among total viewers the whole time; one of the reasons for the applause on Tuesday was that NBC led ABC by nearly half a million total viewers the week before.
The celebratory moment was cathartic for a news division that's been through a journalism version of hell, subjected to the kind of scrutiny it usually doles out to others while still producing newscasts for 10 million viewers a day.
Holt has remarked to others that he hopes the experience of being covered will cause NBC's journalists to show a little more sympathy while covering others' scandals.
Unfortunately for NBC, its own crisis is not over yet.