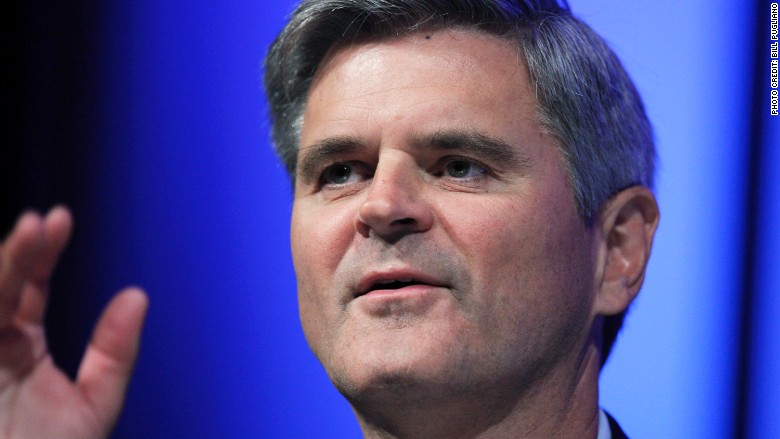 Entrepreneur Steve Case, co-founder of AOL, took on a different role at SXSW: history professor and Internet savant.
In a keynote speech on Saturday in Austin, Case recalled his early days as an Internet pioneer and gave his predictions for its future.
Case -- who now heads up Washington, D.C. based venture capital firm Revolution LLC -- spoke of the Internet in three waves.
The first, of which he was a leading pioneer, ran from 1985 to 2000 and brought the Internet to everyday life. The second, from 2000 to the present, consists of entrepreneurs building on top of the existing Internet with companies like Google (GOOG), Twitter (TWTR), Facebook (FB) and the growing app economy.
We are now on the brink of a third wave, according to Case.
"The sectors ripe for third-wave disruption account for more than half of our economy," he said.
The first two waves disrupted the communications industry, media and commerce. The third wave, he predicts, will impact everything else -- healthcare, education, transportation, energy, food.
He said it took AOL (AOL) ten years to reach 10 million users, but "the pace of change is accelerating."
"It took Facebook just 10 months," he said. "And more recently, apps like Snapchat have reached 1 million users in less than 10 weeks. Small teams have been able to achieve tremendous traction, sometimes virtually overnight."
This starkly contrasts the adoption of AOL. The company went public in 1992 -- the same year Congress permitted commercial use of the Internet. (Yes, it was actually illegal for most to connect to the Internet prior to that.)
"By 1999, we were up to 20 million subscribers, but we still had to explain to people why we needed the Internet," said Case, noting that they were running TV commercials to do so. "Back then, the doubters were many and the believers were few."
Case identified four mega trends for third-wave entrepreneurs:
* Crowdfunding will level the playing field.
* Strategic partnerships (including with the government) will once again become very important.
* Impact investing will rise (such as B Corporations like Etsy that are focused on profits as well as purpose)
* We'll see an increased globalization of startups.
"The pace of change and the threat of disruption creates tremendous opportunities for entrepreneurs if they understand the battle ahead," he added.