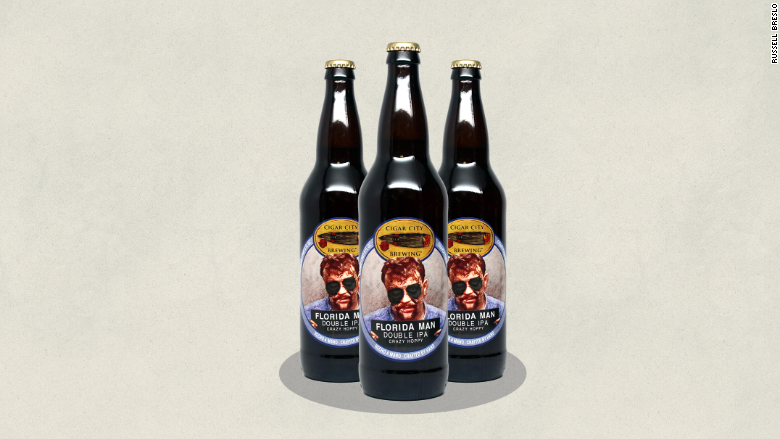 This weekend alone, "Florida Man" flew off a pickup truck in an airborne mattress, stabbed a buddy with a letter opener, and asked a cop for help after he shot himself during a robbery.
Now he's a beer.
"Florida Man" is a popular Twitter account that collects and shares unbelievably wacky (but true) news out of the Sunshine State, usually with a headline that reads like this: "Florida Man [insert bizarre act here]."
A small craft brewing company in Tampa is now selling a beer named after the social media phenomenon. Joey Redner, founder of Cigar City Brewing, described Florida Man beer as a double India Pale Ale that's "crazy hoppy."
Like most IPAs, it's a strong brew with the flowery smell of hops -- only this one has hints of grapefruit, mango and passion fruit.
"I just always thought it was funny all the shots Florida took on the chin for things that happen here," Redner said. "I figured, if people are going to poke fun at you, you might as well embrace it."
Cigar City Brewing created Florida Man beer last year, but it's now bottling it for the first time. Redner said they're only making a special batch with 3,000 bottles going for $9 each -- and only at some retail locations in Florida. If it gets as popular as the Twitter account that inspired it, Redner said he might consider making more and selling it outside the state.
The "Florida Man" thing has taken off ever since it started in 2013. Every insane headline has a link to a legitimate news story to back it up. Some have called it "Twitter's worst superhero ever."
Just consider these three, actual headlines from 2014:
Florida Man attempts to smoke crack in ICU, almost burns down hospital
Florida Man tattoos black widow spider on his face to combat arachnophobia
Florida Man steals 850 pairs of underwear from Victoria's Secret
Redner's favorite "Florida Man" tale? The guy who thought his cat died and buried it in January. The zombie cat dug itself out of its grave and walked the streets of Tampa days later, sparking a custody battle with the local Humane Society.
The man featured on the beer label is the same guy on the Florida Man Twitter account: Ricky Lee Kalichun. He was an Indiana resident (strangely enough) when he was arrested in 2011 after allegedly drawing on his own face with a sharpie and attacking a man with a sword.
Redner said he didn't ask for Kalichun's permission to use the photo, but he hopes he'll just embrace the humor.