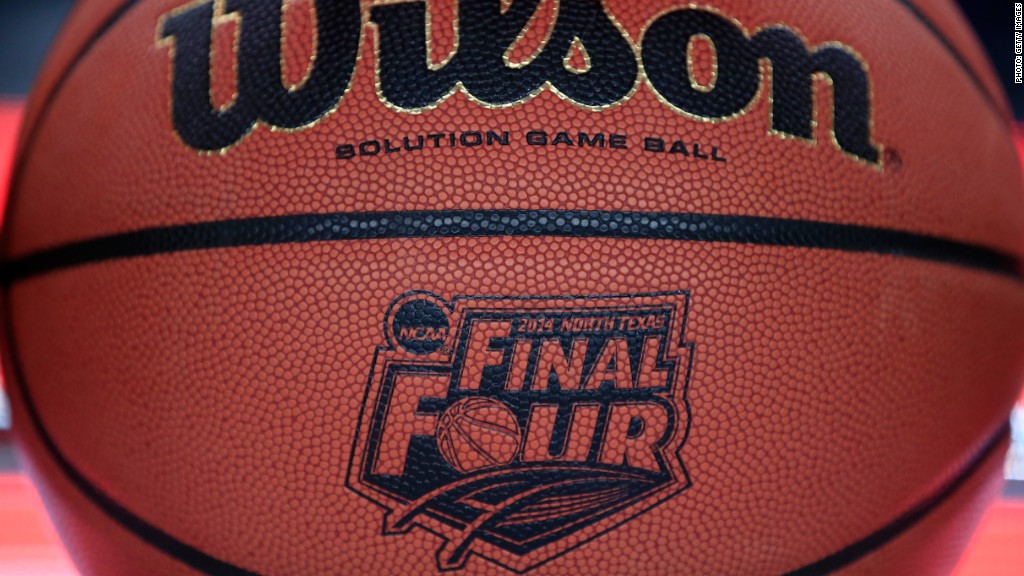 Have you made your NCAA tournament picks yet? Let me guess. You have Kentucky winning it all.
But March Madness isn't just about brackets and buzzer beaters. It's also about food.
Several companies are offering crazy promotions to try and attract hoops fans.
Domino's (DPZ) has a 50% off deal on pizzas that are ordered through its online and mobile platforms. That lasts through Sunday ... when the 68 teams selected for the tournament will be whittled down to a Sweet 16.
Pizza Hut, which is owned by KFC and Taco Bell parent Yum! Brands (YUM), is going the nostalgia route.
Related: Domino's stock delivers
It's selling its signature stuffed crust pizza, which is now 20 years old, for an "anniversary price" of just $9.99. It even brought back former San Antonio Spurs legend David "The Admiral" Robinson to appear in an ad again like he did in 1995.
Pizza Hut is also running a contest that will give fans a chance to win a trip to the Final Four in Indianapolis and take a half-court shot backwards (since that's apparently how you're supposed to eat a stuffed crust pizza) for a chance at winning $1 million.
Not to be outdone, Papa John's (PZZA) is bringing back its "fan favorite" (I'll take their word for it) Philly Cheesesteak Pizza. The company said in a release that it's "just in time for the college basketball championship kick-off."
I'm not sure what a Philly Cheesesteak has to do with basketball, especially since the top-seeded Villanova Wildcats were the only Philly school to make it to the Big Dance. (Poor Temple.) Also, shouldn't it be a tip-off instead of a kick-off?
But I digress.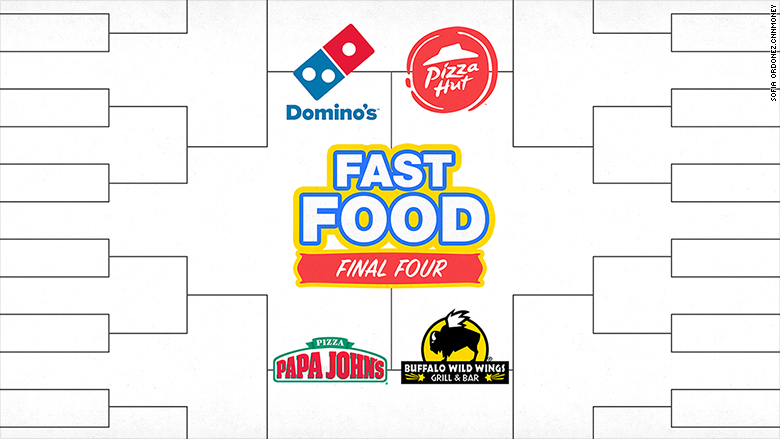 Will the sales and stocks of these pizza purveyors get a boost as a result of their March Madness stunts? Perhaps.
It's already been a good year for the companies. The three stocks have all outperformed the S&P 500 so far in 2015. The first quarter is typically a big one for these food chains.
Related: Inside Pizza Hut's test kitchen: Tasting some really weird pizzas
The Super Bowl is always a big day for them, and the beginning of March Madness is like the Super Bowl on steroids. There will be 48 games on TV starting on Thursday at noon through Sunday night, airing on CBS (CBS) and Turner Sports, which like CNNMoney is owned by Time Warner (TWX).
Still, these companies (part of a restaurant stock Final Four if you will) may be big underdogs compared to Buffalo Wild Wings (BWLD).
The sports bar chain is actually an NCAA corporate sponsor. It's billing itself as the "official hangout" of March Madness.
A big part of the NCAA tournament's appeal is the social aspect.
And by social, I am not talking about Twitter and Facebook. I mean analog social: actually going somewhere with a group of friends to watch the games live so you can exchange high-fives and hugs when your alma mater wins instead of texting a happy face and beer emojis.
Of course, Buffalo Wild Wings recognizes the 21st century notion of social too. It's promoting #wingswisdom as a trending topic and also will have an online tournament tracker with "reaction GIFs to major moments" among other things.
Related: Buffalo Wild Wings CEO Sally Smith was one of the best execs of 2014
The company has done a phenomenal job of capitalizing on big sports events. It was a winner during last year's World Cup as well as the Super Bowl this year.
This success comes at a price, however. Shares trade at 30 times earnings forecasts -- a pretty expensive valuation.
But that's in line with the valuations for Domino's and Papa John's. And Buffalo Wild Wings has a higher expected earnings growth rate than them -- 20% a year versus 15% for the pizza companies.
Buffalo Wild Wings is based in Minneapolis -- far away from the hoops hotbed of Kentucky that Yum and Papa John's call home. But it is definitely the favorite to win the market's version of the Madness.