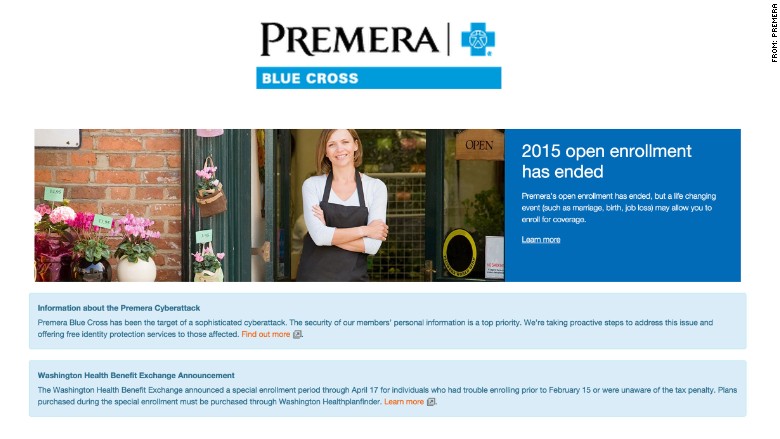 A large American insurer said Tuesday that hackers broke into its computer systems last year, exposing the data of 11 million people.
Premera Blue Cross, based in the Pacific Northwest, said hackers "may have" accessed millions of health profiles that included Social Security numbers, birthdays, emails, physical addresses, bank account information, clinical information and detailed insurance claims.
The data breach affects so many people, because criminals accessed computers housing data about current and past customers, dating back to 2002.
The company also has lots of affiliates and related firms. Premera Blue Cross operates in Washington State and Alaska. Its affiliate Vivacity provides workforce wellness services. Connexion Insurance Solutions caters to individuals and small businesses. All were affected by the hack.
Premera said it was initially infiltrated on May 5, 2014 -- but it didn't discover what happened until January 29 this year.
This is the second major hack of a large health insurance company so far in 2015. In January, hackers stole similar personal information on 80 million people from insurance giant Anthem.
Premera said it is now mailing data breach notification letters to the 11 million people whose information was exposed. The company is forced by state laws to send the letters.
The insurer referred questions about the investigation to FBI agents in Seattle who are now investigating the incident. FBI spokeswoman Ayn Dietrich-Williams said agents are currently working "to determine the nature and scope of this incident."
Premera also hired cybersecurity firm Mandiant as a consultant to investigate the hack. In these types of cases, the FBI often relies on clues discovered by Mandiant, which is owned by FireEye (FEYE), and vice versa.
Premera CEO Jeff Roe's apology statement repeated what's become an all-too-familiar template for companies that lose client data: "The security of Premera's members' personal information remains a top priority. We at Premera take this issue seriously and sincerely regret the concern it may cause."
The company also said it "is taking additional actions to strengthen and enhance the security of its IT systems moving forward."
However, it wouldn't say how hackers gained access.
As for the hackers? There's no telling who did it. Often, such attacks are the work of mafias that traffic in stolen information. This information normally appears on black markets, where identity thieves can buy packaged profiles.
It's become so rampant that there's a new epidemic: Hackers are stealing tax refunds.
Did someone steal your tax refund? Share your story with CNN.