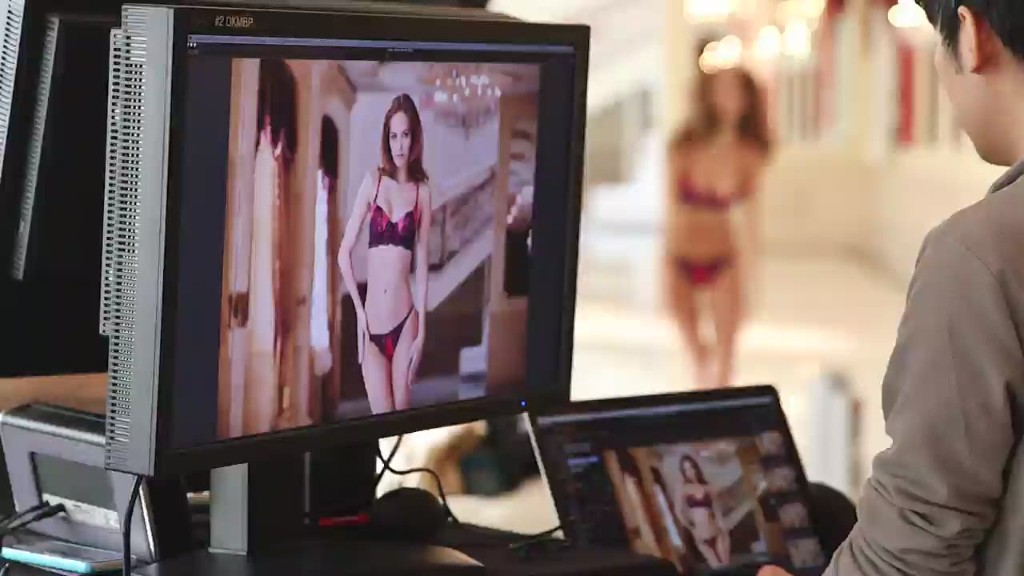 More bodacious brunettes, fewer blonde bombshells.
Revealing data from Adore Me, a New York-based lingerie startup, gets at what women really want in underthings -- and who they want to buy it from.
Turns out, women are more inclined to buy negligees when brunettes are sporting them.
Interestingly, consumers prefer to see a plus-size women modeling lingerie. That actually generates more sales, according to Adore Me.
The three-year-old startup, founded by Morgan Hermand-Waiche, sells its undergarments and swimwear via monthly subscriptions (which run $50 a month) or one-off purchases. It unveils a new collection each month, with up to 40 new pieces.
The brand wants to be as inclusive of all women as possible, so it offers bra sizes ranging from 30A to 44G. (Victoria's Secret ranges from 32AA to 38DD, according to its website.)
In this spirit, when the company launched its first national TV campaign in January, it implemented A/B testing. This is the process of showing consumers several different ads in order to gauge which resonated better.
Adore Me ran three different commercials: one with blonde models, one with a plus-size brunette model and one with multiple brunette models.
The commercials aired throughout January on channels like Bravo, Lifetime and MTV. Adore Me kept tabs on online traffic during these times as well as sales.
The :30 spot with the plus-size model quadrupled online sales when compared to the ad featuring blonds. And the boost in sales wasn't just from women buying plus sizes.
"There's an overall mentality that you have to be super skinny," said Hermand-Waiche, 33. "We are showing that we offer lingerie for everyone."
It's important to note that the commercial featuring a plus-size model was far more bare bones: It cost one-tenth of what the other commercials did to produce.
This raw appeal was reinforced by another finding: retouched images don't translate into more sales.
Adore Me didn't perform any retouching on the ad with multiple brunette models -- and this ad performed the best out of all three. In general, the company said it limits its retouching, reserving "aggressive photoshopping" for erasing tattoos or adjusting lighting.
(Coincidentally, in that unretouched photo of Cindy Crawford that leaked last month, she was wearing Adore Me.)
Related: 6 fashion startups to watch
Implementing A/B testing to identify what resonates best with consumers isn't new for businesses -- or for Adore Me. The firm, which has 60 full-time employees, also A/B tests photos on its website.
That's why some of the findings -- like the blonde versus brunette question -- weren't so surprising. That holds in video testing as well.
"Brunettes overall sell better than blondes," said Hermand-Waiche. "Our customers -- and women in general -- prefer brunettes when it comes to purchasing lingerie. It's what we've seen."
Its A/B testing is certainly one factor in the company's growth. Its revenue totaled $5.6 million in 2013. Though the startup declined to comment on profitability, it hasn't raised any funding since 2013, when it closed a round of $8.5 million.
Hermand-Waiche said they're continuing A/B tests -- now they're testing using voiceovers instead of models.
"We will never really have an end result," he said, of consumer preferences. "At the end of the day, things are always evolving."