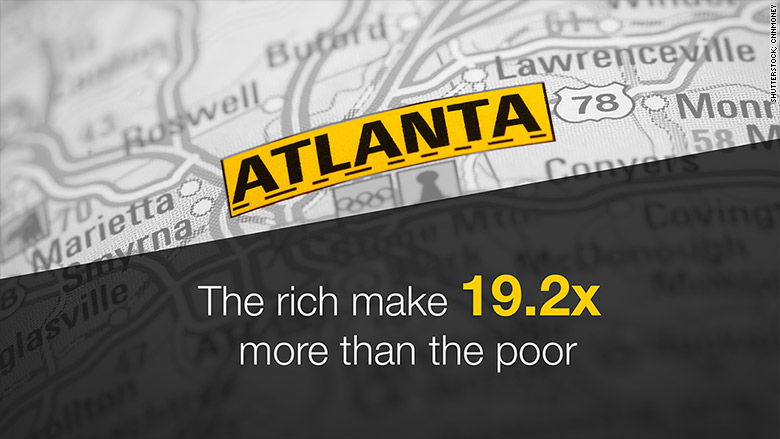 The wealthy are doing well in Atlanta...the poor, not so much.
Atlanta claims the dubious title of being the most unequal city in America, according to a new Brookings Institution report.
The analysis compared the income of the Top 5% of households in a city with that of the bottom 20%, using Census data.
In Atlanta, the wealthy earned 19.2 times what the poor did, or $288,200 to $15,000, in 2013. Nationwide, the ratio was 9.3 times, and for large cities, it was 11.6 times. Inequality is greater in big cities because rich residents tend to have higher incomes and the poor lower ones, according to Brookings.
The income gap is also large in San Francisco (17.1 times), Boston (15 times) and Miami (14.8 times).
On the flip side, the nation's most equal city is Virginia Beach, where the wealthy's income is only 6.2 times that of the poor. Colorado Springs (7.3 times), Mesa, Ariz. (7.5 times), and Oklahoma City (7.8 times) are also pretty equal.
Cities generally are less equal than they were in 2007, prior to the Great Recession. Inequality continues to widen, additional evidence that the economic revival is benefiting the rich more than the poor.