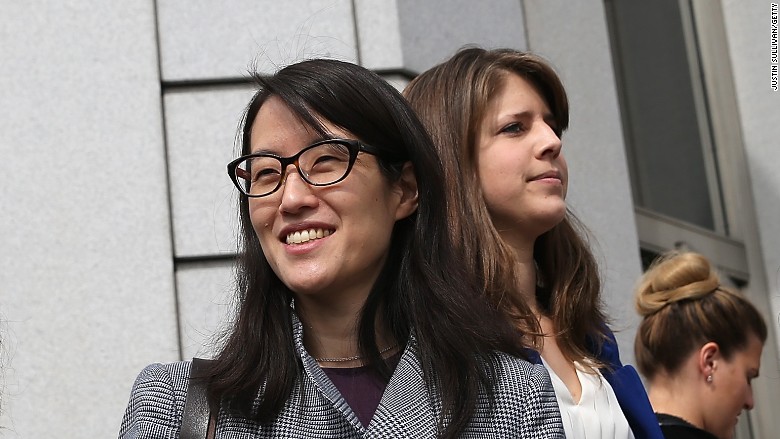 The gender discrimination case riveting Silicon Valley has reached its halfway point.
As the trial entered its fourth week, the plaintiff wrapped up its case, which included testimony from former and current Kleiner Perkins partners, HR and damages experts, and four days hearing from Ellen Pao herself.
Pao is suing her former employer, one of Silicon Valley's most well-known venture capital firms, for gender discrimination. After Pao ended a relationship with a married coworker, she says he retaliated at work. Pao complained to the firm, and alleges it resulted in poor reviews, discrimination, and ultimately her termination.
The case is offering the public a rare peek inside the monied world of venture capital, and it also comes at a time when the tech industry is increasingly under pressure to address its lack of diversity at all levels.
The dirty details are all out
Witnesses gave detailed, often uncomfortable, descriptions of the alleged inappropriate interactions at Kleiner Perkins. Pao discussed her relationship with colleague Ajit Nazre, which she said began as unwanted attention from him. Former partner Trae Vassallo testified that Nazre made sexual advances at her as well, showing up outside her hotel room in a robe holding wine during a business trip.
Another partner gave Pao a book of erotic poetry on Valentine's Day, later asking her out while his wife was out of town, according to Pao. During a trip on a private plane, male partners discussed the Playboy Mansion and the attractiveness of waitresses, though the particulars and length of the conversation is disputed by both sides.
The sexism was subtle
Much of the back and forth has been about mundane alleged examples of gender discrimination. Pao said female partners were often excluded from all-male events, like a ski trip to Tahoe and dinners, including one at Al Gore's home. She said one partner claimed that women would "kill the buzz."
Related: Top companies for female execs
Pao's lawyers claim she was not promoted to senior partner because she was a woman in a sexually charged boy's club, and that she was being punished for complaining about her relationship with Nazre. Kleiner Perkins lawyers attribute it to poor job performance.
In performance reviews and on the stand, other partners accused Pao of not being able to own a room and being too passive in meetings. But she's also called out for being territorial and having "sharp elbows," and, perhaps the ultimate VC insult, of not being a "thought leader." However, many of the criticisms of Pao were echoed in reviews of her male co-workers, including Wen Hsieh who was later promoted.
Related: Best countries for women on corporate boards
The jury has the unusual option of submitting its own questions for the witnesses. The anonymous questions have shown a sharp group paying close attention -- but they clearly have some skepticism about Pao's story.
Everything is well-documented -- except the anti-discrimination policy
Both sides have used years of performance reviews and email exchanges to make their case. Everything seems to have been documented and saved, including a private "resentment chart" Pao made about partners at the firm. The defense has pointed to emails and an outgoing voicemail to show that Pao acted out of spite.
One document conspicuously missing was the firm's equal-opportunity employment policy. The current policy was created in 2012, after Pao made her complaint. The defense says an earlier policy existed but the firm was unable to locate it.
Venture capitalists make a lot of money
In addition to deciding what version of Kleiner Perkins' environment is closest to the truth, the jury has to sort through a lot of large numbers.
Pao is asking for $16 million in damages. Her starting salary at the firm was $220,000 a year, and she was making $560,000 in 2012, including bonuses. If she had been promoted to the managing partner of a fund, as she alleges she should have been, Pao could have made five times that amount, according to Susan Biglieri, Kleiner Perkins' CFO. In her current role as interim CEO of Reddit, Pao is earning a $250,000 salary, though details about her stock options there have not been disclosed.
Related: Women of Twitter launch investment collective
In a dramatic, sometimes brutal style, defense lawyer Lynne Hermle picked apart the details of Pao's testimony. She attempted to paint Pao as someone who was suing for the money, while Pao's side said it was to bring attention to the issue of discrimination at Kleiner Perkins.
Now its Kleiner Perkins' turn
Now that the plaintiff has rested, Kleiner Perkins gets a chance to show its version, including positive testimony from women at the firm. They've lined up 17 witnesses, and questioning is expected to take weeks. Well-known Internet analyst and VC Mary Meeker took the stand on Monday to defend the firm, saying she didn't think it was biased against women. Meeker didn't work with Pao directly, but described her as passive.
Pao, who let out a relieved smile when she was finally dismissed on Friday, has said a trial was not how she wanted to resolve this.
When Hermle asked if she was a team player, Pao said, "I tried very hard, but it's hard to be part of a team that doesn't want you."