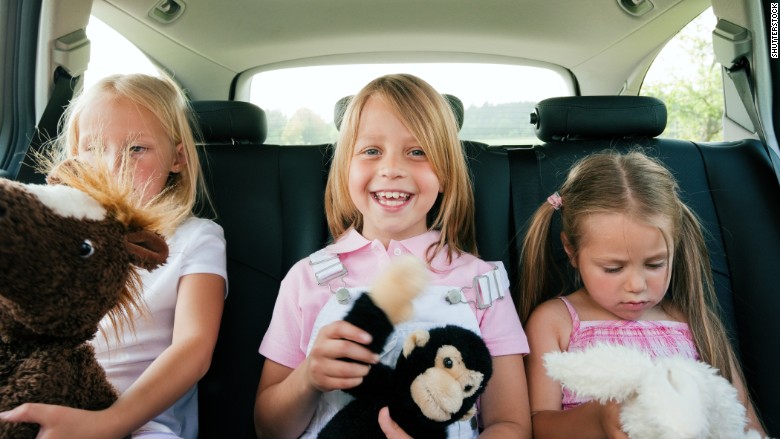 Carpooling is so old-school.
These days, parents are capitalizing on the sharing economy: they're sending their kids off to activities in Ubers or Lyfts.
But soon, families may feel more comfortable using a service called Shuddle.
Shuddle is like Uber, but it specifically targets families who want extra assurance that their kids -- or elderly parents -- will be driven to and from activities or appointments safely.
The startup, which launched in October 2014 in San Francisco, announced $9.6 million in new financing on Wednesday.
Its pool of over 200 drivers is all women who are "kid-friendly experts," according to Shuddle's website. They're required to have a clean record, plus have cars that are less than 10 years old, have four doors and pass a 19-point inspection.
Unlike other ride-hailing startups, Shuddle necessitates that rides be scheduled at least 24 hours (but no more than a week) in advance. That lets Shuddle send details like the driver's bio, headshot and vehicle information.
Parents -- whose children must have outgrown a booster seat -- set a code word, which the drivers say upon arrival. Parents can track the ride as it's happening, and once the charge is dropped off, they receive a confirmation.
It costs $9 a month for membership, which is used to cover the driver screening process. Users then pay per ride based on time and distance.
Shuddle CEO and founder Nick Allen is no stranger to ridesharing. He cofounded Uber competitor Sidecar in 2012, before leaving the firm in 2013 to launch Shuddle.
Allen isn't a parent himself, but at Sidecar, he witnessed families shuttle their kids with the service.
"He discovered that traditional ride-sharing companies aren't built to handle that customer segment," wrote RRE venture capitalist Steve Schlaf, whose firm led the investment. "They typically don't have the right insurance and it's against their terms of service since passengers must be at least 18 years old."
It's a growing niche that Uber investor Bill Gurley addressed during his SXSW keynote.
Gurley said parents are relying on Uber to shuttle their kids around -- and are encouraging their teenagers to use the app instead of driving.
And he predicted that more ride-sharing startups will emerge to target specific niches, just as Shuddle is doing.
RRE Ventures -- an investor in The Skimm, Venmo and BuzzFeed -- is banking on it. Shuddle has raised a total of $12 million. The most recent round will be used to expand Shuddle's services beyond the Bay Area, where it currently operates.