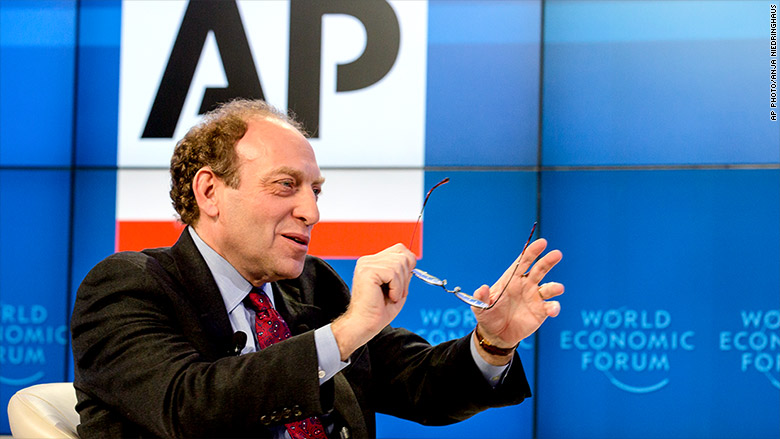 NPR's newsroom has a new boss: Michael Oreskes.
Oreskes, who has been a top editor at The Associated Press for the past seven years, will become NPR's senior vice president of news and editorial director at the end of April.
His appointment was announced on Thursday following a lengthy search. NPR's last newsroom leader, Margaret Low-Smith, left for a job at The Atlantic last July.
Oreskes, 60, has a reputation as a respected, hard-charging editor. He spent more than two decades at The New York Times, ultimately as a deputy managing editor. In the mid-2000s, he became the executive editor of the Times' International Herald Tribune newspaper. Then he moved to the A.P. in 2008.
Jarl Mohn, the CEO of NPR, said Oreskes's "deep experience in international coverage, digital platforms and adapting to fast changes in news consumption will help ensure that NPR remains a vital news organization, engaging new audiences in new ways, for years to come."
NPR, like other established news outlets, is having to figure out how to adapt to the digital age, and the evolution hasn't been easy. The public radio organization has churned through CEOs.
Mohn, who came aboard last June, has tried to stabilize the organization and stem its annual losses. The hiring of Oreskes is one of his biggest steps so far.
One of NPR's former CEOs, Vivian Schiller, wrote on Twitter that her friend Oreskes is "exactly what NPR needs. A superb journalist, leader, change-agent, innovator."
There are big differences between NPR and the A.P. NPR is best known for its radio news reports, while the A.P. is best known for providing wire copy for newsrooms around the world. But NPR is increasingly writing stories and making videos, while the A.P.
has big radio and television businesses.
In an interview with his new employer, Oreskes said "time and space" used to be the main constraints for journalists -- "space in a newspaper, time on the air."
But now, he said, "the really controlling force in the world right now [is] how long you can keep your audience, your followers, consuming the journalism you're creating. They have just so many other places to go, so many things pulling on them and so many demands on their time that our goal is to create journalism that holds them. And I don't think anybody in journalism right now does that better than NPR."