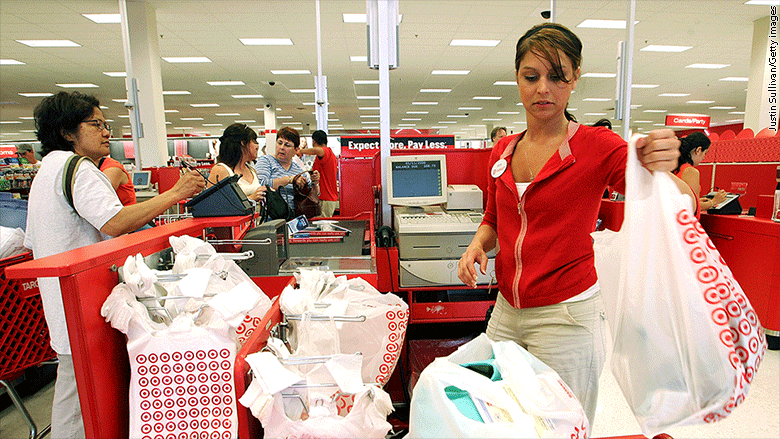 Target may be the next big retail chain to raise its minimum wage to $9 an hour, following the lead of other big box stores in giving workers a much-needed pay boost.
The change has not been officially announced, but Target has been telling employees that the higher wages will go into effect this spring, according to published reports.
A spokeswoman said the company regularly evaluates its pay polices to make sure its wages are "competitive."
News of a wage hike at Target (TGT) comes on the heels of the company's announcement that it will cut "several thousand" jobs over the next two years, primarily at corporate headquarters in Minneapolis.
Target currently has roughly 366,000 employees nationwide.
The move comes just a month after Wal-Mart (WMT), the nation's largest retailer and industry standard-setter, announced it's raising the wage floor to $9 an hour for 500,000 full-time and part-time associates across the country in April. By next February, the number will increase to $10 an hour.
Related: Target hack victims could get up to $10,000
Days after the Wal-Mart news, TJX Companies (TJX), the owner of T.J. Maxx, Marshall's and Home Goods, said it will raise wages to $9 an hour in June.
The current federal minimum wage is $7.25, though many states have raised their own minimum wages above the national standard. President Obama has proposed an increase to $10.10 nationwide, but he has so far been blocked by Republicans in Congress.
Related: Seattle workers win fight over $15 minimum wage
As the wage debate simmers in Washington, so has one in front of retail stores across the country. Activists, labor groups and employees have been protesting, marching and demanding $15 an hour since 2012.
With little progress at the federal level, some states and cities have taken action.
Minimum wage hikes went into effect on January 1 in 20 states, including South Dakota, Nebraska, Alaska and Alabama and Washington, D.C.
Some cities have been even more aggressive. Seattle and San Francisco passed $15 wage laws, while Los Angeles announced a significant wage hike too.
Related: America's most unequal cities
-- CNNMoney's Patrick Gillespie contributed to this report.