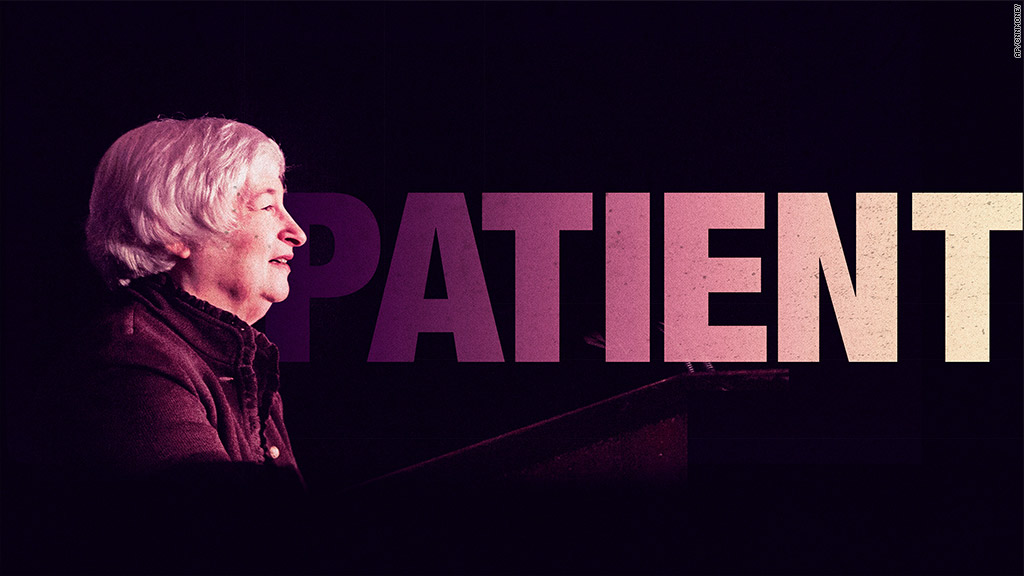 Many Americans don't pay much attention to what Federal Reserve Chair Janet Yellen and "the Fed" do, but that could change very soon.
In June, the Fed could do something it hasn't done since Barack Obama was a U.S. senator: raise interest rates.
Don't hit the snooze button. An interest rate hike will impact everyone who has a home mortgage, car loan, savings account or money in the stock market.
In short, life is about to get better for savers and a little harder for borrowers. Investors could also face tougher times.
Related: What the Fed said Wednesday, in layman's terms
"The losers will be borrowers and the winners will be savers," says Ted Peters, CEO of Bluestone Financial Institutions Fund and a former member of the Federal Reserve bank of Philadelphia.
Here's the full run down:
1. Mortgage rates will rise: As the Fed signals its intention to raise rates, borrowers are rushing to get deals done now. There's been a big rush of mortgage applications in 2015, driven by people refinancing to lock in lower interest rates.
"People thinking of buying a house should act quickly to lock in today's low rates," says Dean Croushore, an economics professor at the University of Richmond and former Philadelphia Fed economist.
An average, 30-year mortgage fetches a 3.8% interest rate now, according to Freddie Mac. That's down from a year ago when rates were closer to 4.3%. The Fed cut rates to historic lows in 2008 in part to reboot the housing market, which collapsed when the housing bubble popped.
When the Fed likely raises rates this year, it will push mortgage rates and auto loans up, experts say. That said, it's uncertain if that will cause home or car buying to slow down.
Related: Was my home a good investment?
2. Savers succeed: Ever since the financial crisis, folks who put their money in the bank have gained next to nothing. With interest rates so low, people who played it safe have been getting the short end of the stick.
That will change for the better for people with savings accounts. Once the Fed raises interest rates, savers will gain more interest on the money they deposit at their bank.
The average interest rate on a savings account is a mere 0.44% right now, according to Bankrate.
Savers can smile all the way to the bank knowing the job market is looking good too.
Related: I saved $1 million to live my retirement dream
3. Jobs, jobs, jobs: A big reason the Fed is planning to raise interest rates is because the U.S. economy is improving, especially the job market. Unemployment is down to its lowest level since 2008, and the U.S. has added millions of jobs in the past year.
"The labor market is improving," Yellen said Wednesday. "Some of the headwinds that have been holding the economy back are beginning to recede."
A rate hike would be Yellen's two thumbs up that the economy is healthy.
The only concern is that a rate hike could hurt future wage growth. Many Americans haven't sensed the success of the economy's recovery because wage growth remains flat. The Fed wants to see about 3.5% wage growth, but it was only 2% in February.
However, Yellen made clear that wage growth isn't a requirement to raise interest rates. Wages are usually the last measure of the economy's health to move in the right direction.
"We may not see wage growth pick up," Yellen said. "I wouldn't say that is a precondition to raising rates."
Related: America's most unequal cities
4. Rocky ride for stocks: The stock market rallied big on Wednesday after the Fed released its official statement.
Don't take that one day as a preview for the rest of the year though. Investors were largely reacting to language in the Fed statement suggesting that the central bank won't raise rates in April and will likely raise rates only a bit in June or later.
Related: The biggest threat to stocks now is a Fed rate hike
Any rate hike will almost certainly increase volatility. Stocks are already considered expensive and many on Wall Street fear markets are overdue for a correction (when they drop 10% or more), which hasn't happened since 2011.
"Overall measures of equity valuations are on the high side but not outside of historical ranges," Yellen reiterated Wednesday.
A Fed rate hike could make stocks less attractive to investors. It would also raise interest rates on U.S. bonds, which are considered safer investments.
Spring is coming, but a Fed rate hike could set the sun -- at least for awhile -- on the phenomenal gains investors have experienced in recent years.