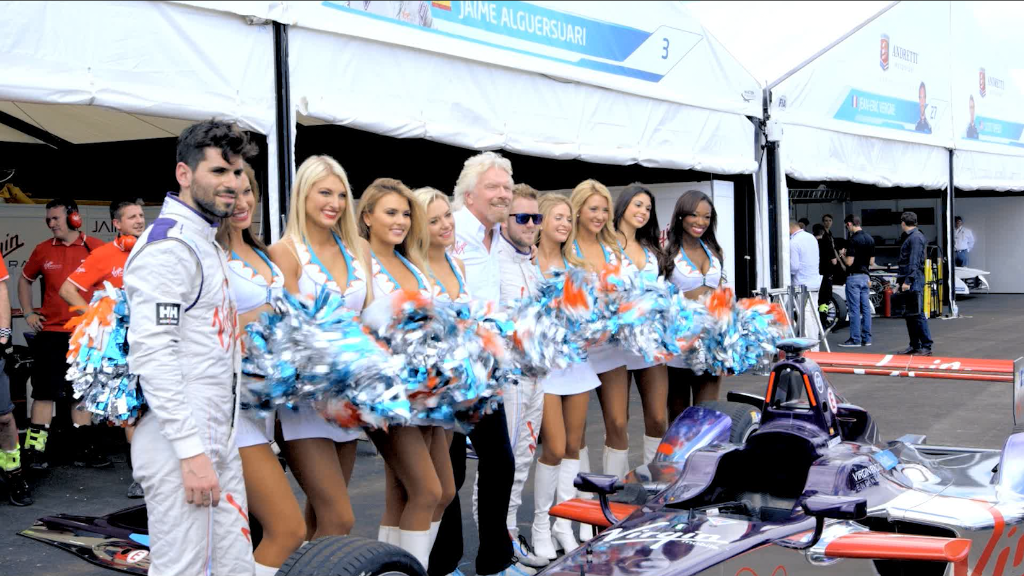 Richard Branson, founder of the Virgin Group which includes Virgin America airlines and Virgin Mobile, has said he might consider getting into the electric car business to compete against Tesla Motors
Branson made the comment to CNN's Rachel Crane during an electric car race in Miami in which Branson's Virgin Racing was competing. The Formula E race, which is operated by the same organization that runs Formula 1 racing, pits single seat electric cars against each other in races that last about 45 minutes. Because the cars' batteries are depleted quickly by high speed driving, drivers change cars during a pit stop half-way through the race.
"Virgin Racing has shown that electric cars can be sexy," Branson said "That's where you start, and then you create cars for twenty-five, thirty thousand dollars for everybody."
There are electric cars on the market now that cost $30,000 or less such, as General Motors' (GM)Chevrolet Spark EV and Daimler (DDAIF)'s Smart Electric Drive. But both of them are small hatchbacks that it would be difficult to describe as "sexy." Branson hinted his companies might enter the race to make a popular electric car.
"Yeah, one day, we might do it. We might use Virgin Racing Engineering to develop a mass market car, but it will have to be very unique," he said.
Tesla Motor's success with the Model S luxury sedan has attracted other companies that aren't usually associated with automobile development and manufacturing to look into electric cars. Apple is reportedly developing its own electric car, although it has not yet publicly admitted it. Google (GOOG) is also working on self-driving cars.
Tesla (TSLA) currently sells a sedan that starts at about $70,000 and said it plans to introduce a crossover SUV soon. The automaker expects to sell 55,0000 vehicles this year.
Later it plans to introduce the Model III which Tesla says will cost about $35,000, something closer to the sort of car Branson mentioned.
Making a passenger car designed to travel long distances with passengers and cargo is, of course, very different from making a race car which carries one person for about 20 to 30 minutes.
Driving Tesla's 'insane' Model S P85D
Tesla: Now there's no excuse for running out of juice