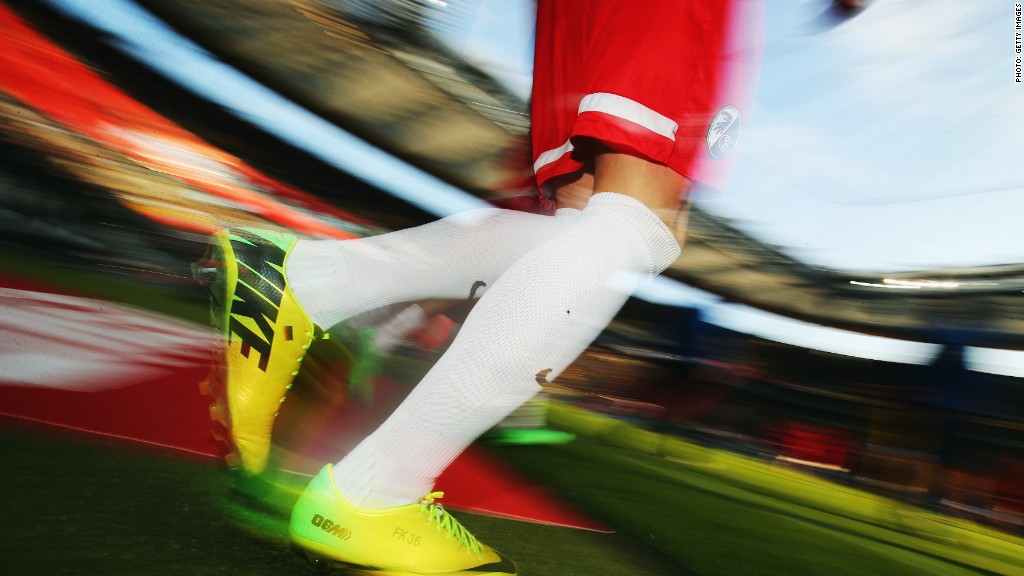 It's gotta be the shoes! Nike stock was doing one of its trademark swooshes Friday, surging higher even though the company said the stronger dollar will hurt its future sales growth.
Nike (NKE) shares rose nearly 5% to a new all-time high. The company reported earnings that topped forecasts.
Nike's future orders -- a measure Wall Street looks at closely -- were up just 2% in the quarter. But if you exclude the impact of the strong dollar, that number was up 11%.
Investors chose to focus on that latter number, which was better than expected and is incredibly impressive for a company of Nike's size.
In particular, Nike said that future orders in China and Europe were extremely strong.
"The Nike brand is sacrosanct," wrote Sam Poser, an analyst with Sterne Agee, in a report Friday. "Nike will likely continue to gain share worldwide due to ongoing product innovation and the massive dollars dedicated to R&D, marketing, and infrastructure."
Related: Could Under Armour win CNNMoney's #MarketMadness tournament?
The strong dollar does bear watching though.
Several of Nike's fellow Dow components, including Microsoft (MSFT), Procter & Gamble (PG), IBM (IBM) and Caterpillar (CAT), have been punished by Wall Street due to fears that the greenback's rally will hurt their profits this year.
Nike also faces growing competition from upstart Under Armour (UA), which is growing more rapidly than Nike. Under Armour's stock rose Friday and also hit an all-time high.
But analysts and investors don't seem that worried. According to data from FactSet Research, at least eight analysts raised their price targets for Nike Friday following its strong earnings.
Nike's success has helped lift shares of retailer Foot Locker lately as well. Foot Locker shares rallied to a record high on Friday too.