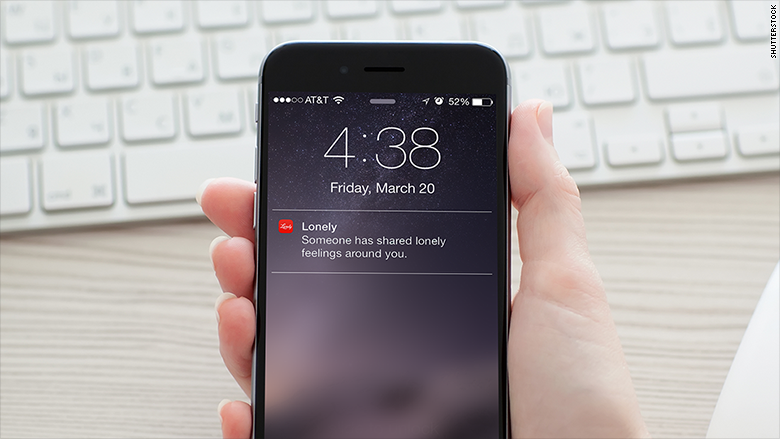 Happy International Day of Happiness ... let's talk about loneliness.
It has been linked to an early death, depression, and higher rates of illness. Americans are more lonely than ever before, but with new technology there are ways to spot it, track it, indulge it or beat it.
There's the Japanese app Watching Cute Girl, in which a live girl is forever on standby, watching you through whatever screen you choose. She's staring at me as I type this, and alternates between looking bored and happy. Occasionally she waves. It's a little creepy.
There's the Invisible Girlfriend/Invisible Boyfriend app, which mimics a relationship with real-time texts and voicemails for just $25 a month. Users give their virtual paramour a name, age, photo and create a personality for them.
"There's a wish that [a smartphone] will connect you with the world and sometimes it does," said Dr. Jacqueline Olds, an associate professor at Harvard Medical School who has written books on loneliness.
Related: Does text therapy actually work?
But that connectedness can also be detrimental, especially when it comes to scrolling through the never-ending social media stream of people who look like they're out having a good time.
"That's because we are all so prone to feeling left out," Olds said. "It's like everybody is having fun but you."
For those looking to commiserate about feelings of exclusion, there's an app for that.
Brothers Sezgi Abat and Emre Abat built Lonely, where users post status updates about their feelings. It works with GPS, so users are alerted when people near them are sharing lonely feelings.
Posts range from, "I've gotta go pretend like I'm a human again. I'm so lonely," or, "I'm lonely when you aren't around ... I can't bear it." Another said they didn't want a prom date, just someone for pictures "so my family won't think I'm lonely."
"Our first goal is reduce loneliness," Abat said.
Related: Can this app cure loneliness?
Lonely has 11,000 users, most of whom are from Turkey, where the brothers live. The pair spent $10,000 developing Lonely before it launched last year. The next step is to integrate private chat.
But sometimes physical touch is what people need. Therapist Virginia Satir famously said, "We need four hugs a day for survival. We need eight hugs a day for maintenance. We need 12 hugs a day for growth."
Though there are professional cuddlers for hire and cuddling parties to attend, there's also a virtual reality option: Last year, Japanese company Up Frontier unveiled a pillow shaped like a woman's legs, which works with an Oculus Rift virtual reality headset.
In the game, users wear the headset and interact with the female character (who's more than just legs). They can sit with her, have a conversation or even rest their head on her lap -- which is where the pillow legs come in handy.
What users can't do is walk away. If they do, the virtual character apparently kicks them as punishment.
After all, nobody likes sitting by themselves.