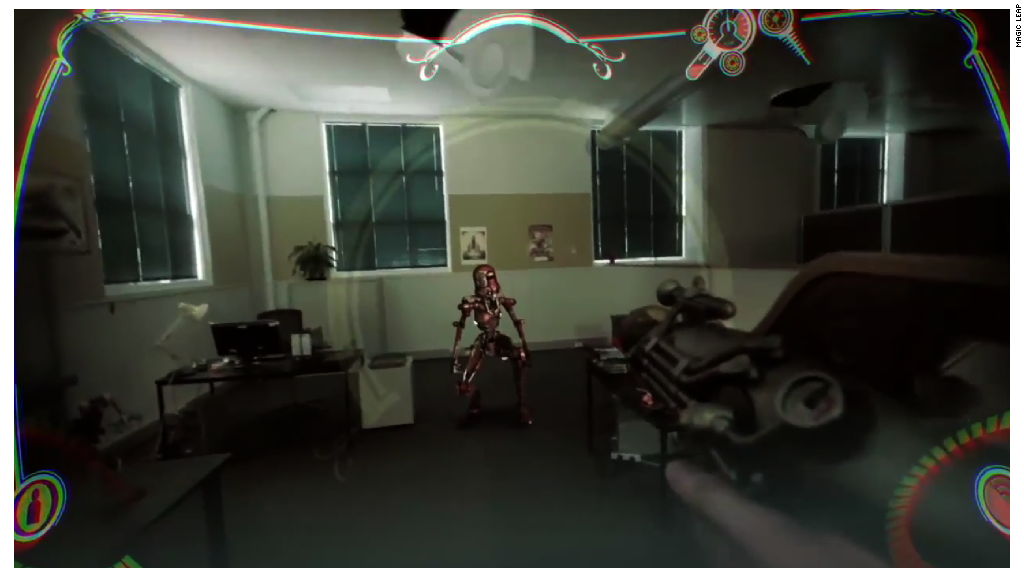 Magic Leap has done it again.
The startup, which has wowed the Internet with impressive displays of augmented reality, has unveiled a fresh sample of its techno prowess.
Magic Leap, which got people excited last year with its video of a floating elephant, has a new video that imagines a futuristic video game that incorporates real life surroundings.
We see this from the point of view of an office worker whose computer displays -- YouTube cat videos and email inbox -- appear as floating ghostly images. When he cues up a steampunk-like shooter game, the action appears to be taking place in the office.
He shoots holes through office partitions and he mows down attacking robots. Then a big burly tank-robot crashes through the office, as sunlight streams in from the outside. Florida sun, presumably, since the company is located in Dania Beach near Fort Lauderdale.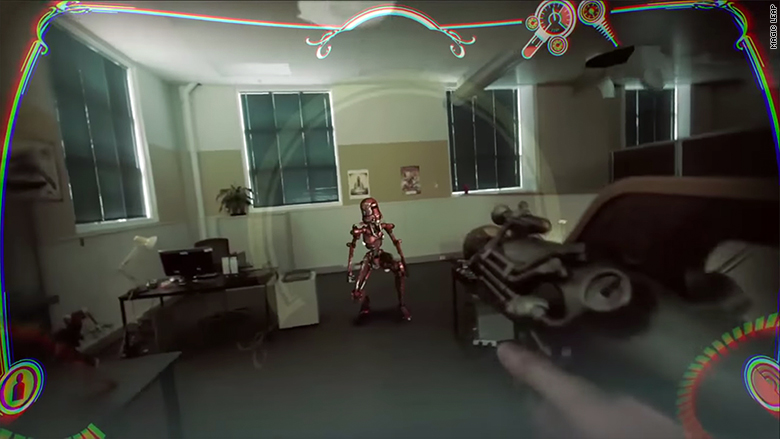 So what is Magic Leap, exactly? We asked the company, and spokesman Andy Fouché said, "I've heard of general questions before, but this might just take the cake!"
But it's not a ridiculous question, because a focused answer is hard to come by. The company, its technology and its mission are not easy to nail down.
Here's the company description from its website: "Magic Leap is an eclectic group of visionaries, rocket scientists, wizards, and gurus from the fields of film, robotics, visualization, software, computing, and user experience."
In a video segment called, "Magic Leap makes the Internet lose its mind," CNN's Rachel Crane said the company describes their technology as "cinematic reality" which "seems to be a mixture of augmented reality and virtual reality on steroids."
Related: New 'Mad Max' movie more expensive than previous three combined
The company's funding also seems to be on steroids: at least $542 million, with Google (GOOGL) as the primary investor.
Magic Leap, which has job titles like "chief futurist," is obviously spending a chunk of that cash on its work force. In a section of its web site called "wizards wanted" the company has 100 job listings.
Most of them are for engineering positions, primarily in computers and software, with specializations in "3-D people tracking" and avatars.
There are several positions specifically related to video games. So maybe they'll make that steampunk interactive office shooter game a reality.