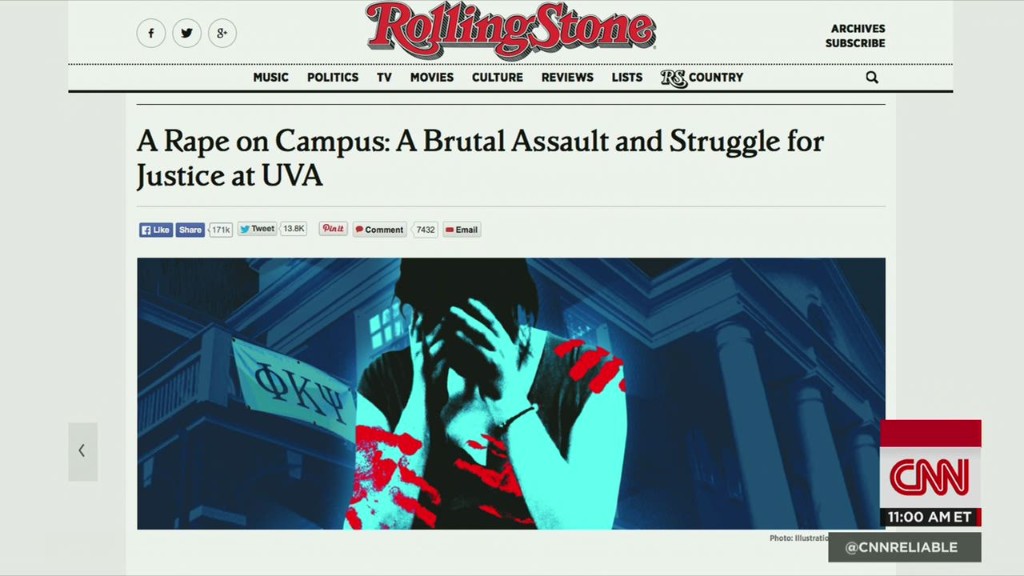 Columbia University's review of Rolling Stone's disputed article about a college gang rape will be published in the magazine in early April.
The article, "A Rape on Campus," horrified readers when it was published last November. It described how a University of Virginia freshman named Jackie was sexually assaulted by seven attackers during a frat party, and how the university failed to adequately respond.
The article sparked conversation about sexual violence on college campuses, but the details of the story soon came under withering scrutiny.
As contradictions and discrepancies emerged, Rolling Stone apologized and said it would investigate what went wrong. On December 22, it enlisted Columbia University's graduate journalism school to conduct an independent review.
At the time, Rolling Stone publisher Jann Wenner said Columbia would have free rein to review the magazine's "editorial processes." The actions of the writer, Sabrina Rubin Erdely; the editors; and the fact-checkers have all been questioned by critics.
Journalism school dean Steve Coll has been leading the review, and there has been ample speculation about what it has found.
Although its details are not known, a source with knowledge of the review said Saturday it will be released in early April.
Wenner subsequently confirmed the timing in an email message.
"Expecting it in about two weeks and will publishing shortly thereafter in full," he said.
When asked whether he will be making any editorial changes at the magazine as a result of Columbia's review, Wenner said, "Haven't read it so I have no comments to make."
A spokeswoman for the magazine said Sunday that the review will be published in the print magazine. A spokeswoman for the journalism school had previously hinted at this, saying "we are coordinating production schedules with Rolling Stone."
Separately, local police in Virginia are expected to hold a press conference on Monday releasing the results of an investigation into the alleged rape.
CNN reported last month that Charlottesville police "informed the university at the start of the spring semester that its investigation has found no evidence that the brutal gang rape happened at the Phi Kappa Psi fraternity, as the Rolling Stone story alleged. However, the police have not ruled out that Jackie was raped -- possibly even gang raped, somewhere else, perhaps on a different day."