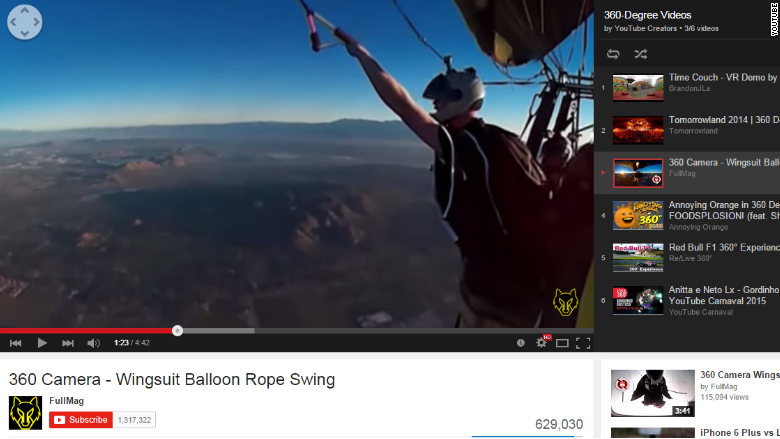 Video made with 360-degree camera technology allows the viewer to watch from any direction, like holding the scene in your hand and turning it to examine it.
YouTube, the Google (GOOGL)-owned video streaming site, started supporting such 360-degree video uploads earlier this month, ushering in a new era of film making and viewing.
If you've ever used Street View in Google Maps, you already know how these videos work: Click on a part of an image to you control what you want to see. You can swivel around and zoom in and out while a video is playing.
Unfortunately, for the time being, you can only control 360-degree videos through the YouTube Android app, or in a Chrome browser.
On Chrome, use the navigation wheel at the top left corner of a video, and drag your mouse around to get the view you want.
YouTube Android app users can simply move and tilt their smartphones or tablets at different angles, moving these devices closer to becoming virtual reality consoles.
If you try to watch 360-degree YouTube videos on Internet Explorer or another browser, all you'll see is a distorted panoramic image with no adjustment controls.
Related: See Paul McCartney -- in virtual reality!
In a blog post, Google says only four cameras are currently compatible with YouTube's new feature: The Giroptic 360cam, Ricoh Theta, IC Real Tech Allie, and Kodak SP360.
Each device records footage through multiple wide-angle lenses. Software then blends the images together to achieve the final spherical views.
There's only a trickle of 360-degree videos on YouTube right now, compared to the more than 300 hours of traditional video content uploaded every minute.