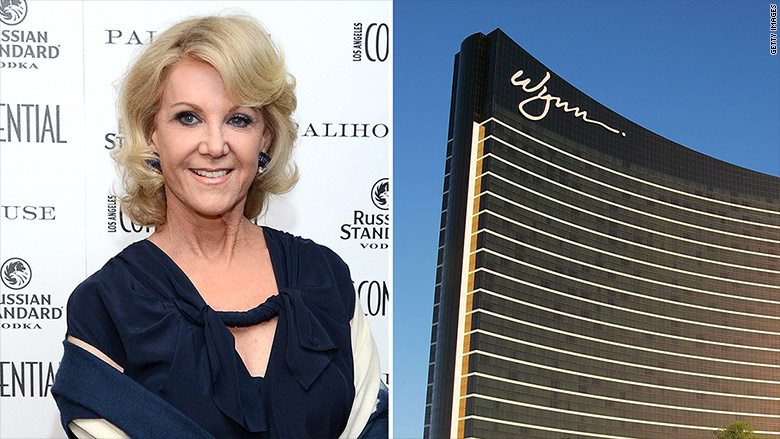 If you want election drama, forget Iowa and 2016. Just head to Las Vegas.
That's where billionaire Elaine Wynn is aggressively fighting to be re-elected to the board seat and maintain influence over the gambling empire she co-founded with her ex-husband 13 years ago.
But Wynn Resorts (WYNN) directors want to kick Elaine Wynn off the company's board when her term expires in April. That's despite the fact that she's a major shareholder who created the company with Steve Wynn, her ex-husband who also happens to be the current chairman and CEO.
The battle has the feel of an awkward political campaign, with Elaine Wynn launching a website and hiring a Democratic political consultant. The site ElaineForWynn.com makes the case for why she's the "most qualified candidate standing for re-election."
"This is a company that I helped create, that I know and deeply love, and most importantly, that I believe in," Elaine Wynn writes on the site.
But the final act of this soap opera will not be decided by viewers at home, voters or a jury. It'll be up to shareholders to put the matter to rest.
Elaine and Steve Wynn split amicably in 2010, reaching an agreement to evenly split their stake in the company and also for him to always vote for her to sit on the board.
Their combined stake today is worth about $2.5 billion. The two have been married to each other twice -- this was their second divorce.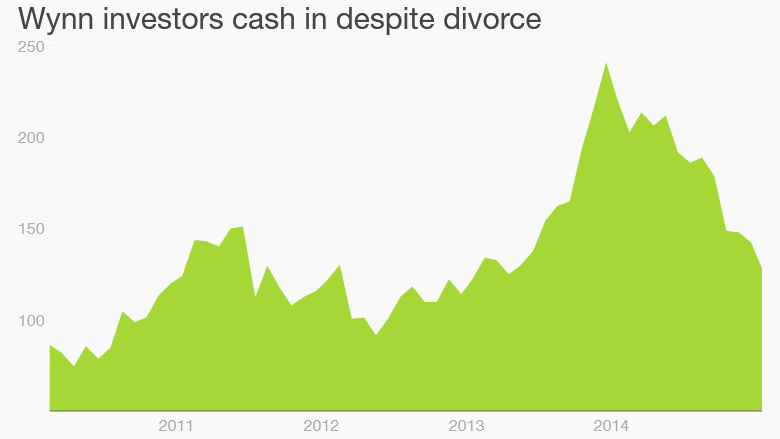 Related: Wynn Resorts wants Steve Wynn's ex-wife off the board
Suit sparks proxy war: However, tensions began to build in 2012 when Elaine Wynn sued her ex-husband to break their agreement so that she could sell her shares at will.
Wynn Resorts claims the lawsuit signals Elaine Wynn's interests are not aligned with those of all other shareholders.
To support its case for booting Elaine Wynn from the board, Wynn Resorts is slinging mud on her. The casino company claims her foundation sold shares worth $10 million before Wynn reported poor results early last month despite a rule banning directors from selling common stock during the sensitive "blackout period."
Wynn stock plunged 6% on the day after reporting poor results, but the foundation avoided the losses.
Related: Las Vegas casinos are losing big in China
Elaine Wynn fired back by saying the board is "fully aware" of the long-standing process that allows her to sell shares to her foundation. She also has "no input" on whether and when the foundation's shares are sold.
Wynn Resorts also called her out for failing to recuse herself from board discussions about plans to acquire property in Las Vegas even though her nephew, Andrew Pascal, was involved in a competing bid. The land was ultimately purchased by a group that included her nephew, the company said.
Elaine Wynn said this charge is a "fabrication" because she had "no reason" to recuse herself since she was unaware of Pascal's plans.
Related: Iran hacked an American casino
Will Wynn oust its only female director? Like any good politician, Elaine Wynn is trying to change the conversation. She's making it a vote about corporate diversity. That's because without Elaine Wynn on the board, Wynn Resorts directors would be all white men.
It's a smart tactic given that boards are making a concerted push lately to add women and minorities to their boards. Rival casino company MGM Resorts International (MGM) has three females on its board, including one who is African-American.
Wynn Resorts seems to recognize that argument could have staying power. The company promised to name one or more diverse directors to its board by the end of the year.
The casino operator also emphasized its track record for promoting gender diversity, saying 38% of all executives are female.
Related: Still missing: Female business leaders
Steve Wynn's mysterious role: Wondering where Steve Wynn is in this saga? Good question.
He is already contractually obligated to support her candidacy for the board. That means Elaine Wynn already starts out with 19.3% of the vote.
However, Steve Wynn is also chairman of the board that is publicly fighting her candidacy. He declined to comment to CNNMoney on whether he personally supports her candidacy.
In any case, Wynn investors will have their say when they vote on April 24.
That just happens to be a few days shy of Elaine Wynn's birthday and also the flagship casino's 10th anniversary.