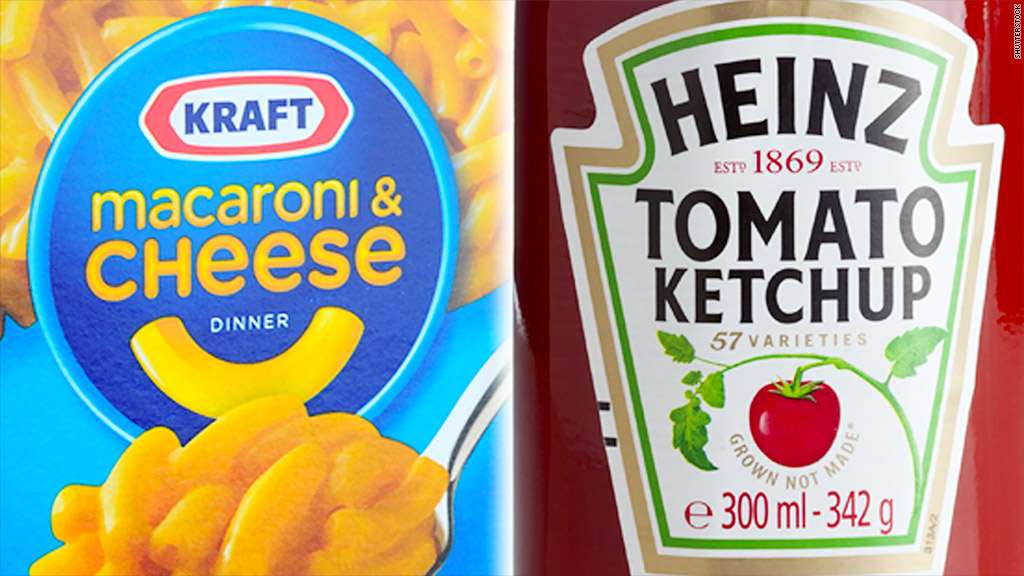 You can add Velveeta and Maxwell House to the Warren Buffett food portfolio.
Heinz, owned by Buffett's Berkshire Hathaway and Brazilian private equity firm 3G Capital, is buying Kraft (KRFT).
Buffett famously called Berkshire's purchase of railroad Burlington Northern Santa Fe an all-in wager on America's economy, The Kraft deal is an extension of that. It's another sign of how much Buffett loves to bet on the taste buds of the American consumer.
Berkshire also owns Dairy Queen and See's Candies. It's an investor in privately held Mars, which owns M&M's, Snickers and gum maker Wrigley. Berkshire also is the largest shareholder in Coca-Cola (KO).
Buffett told Fortune in a recent interview that he eats like a 6-year-old. So the Kraft deal makes sense from that standpoint. What 6-year-old doesn't love mac & cheese? (Although my 5-year-old prefers Annie's mac & cheese from General Mills (GIS). Just sayin')
Related: Kraft and Heinz merger to create food giant
Buffett isn't about glamorous, sexy luxury brands. He buys companies he can understand that are popular with the middle class -- even if they are boring and their growth rates are sluggish.
Analysts are currently expecting Kraft's profits to increase by just 4% a year over the next five years. But Buffett doesn't seem too concerned.
"I am delighted to play a part in bringing these two winning companies and their iconic brands together. This is my kind of transaction, uniting two world-class organizations and delivering shareholder value," he said in a press release about the deal Wednesday morning.
He seems to have found a kindred spirit in Jorge Paulo Lemann, the co-founder and CEO of 3G.
Related: Advice from Warren Buffett that could make you rich
In addition to Heinz, 3G is a controlling shareholder in Anheuser-Busch InBev (BUD).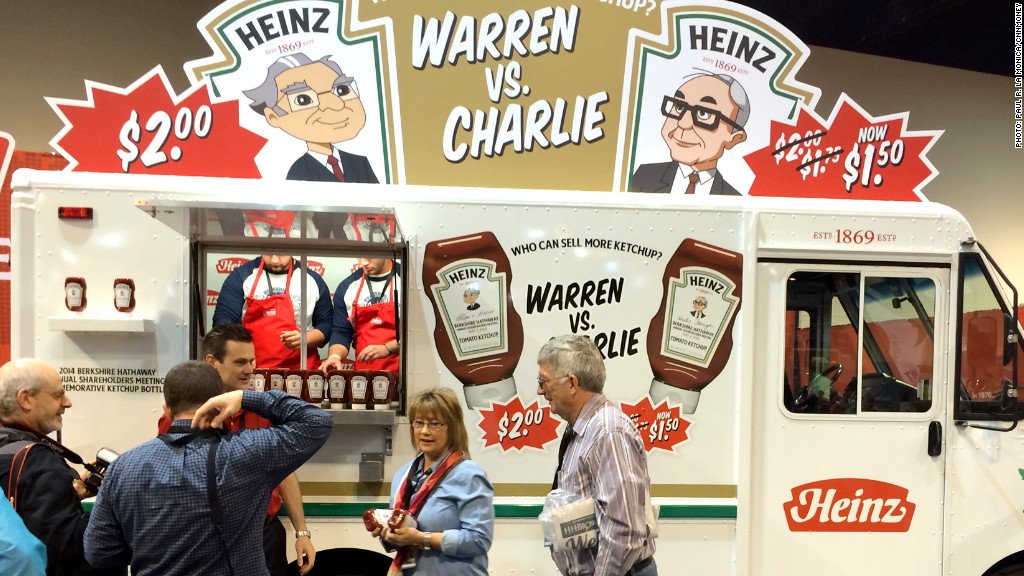 Berkshire also helped finance 3G-backed Burger King's acquisition of coffee and donut chain Tim Hortons, a deal that was controversial because some thought Burger King was looking to lower its tax bill in the United States by purchasing the Canadian-based Tim Hortons.
Berkshire committed $3 billion to the deal and now has a stake in the combined firm Restaurant Brands International (QSR) as a result.
Related: Does there need to be a new Buffett rule?
So what's next for Buffett? He told CNBC Wednesday morning that Berkshire plans to own Kraft Heinz, which will be a publicly traded company, "forever." Berkshire will be that firm's largest shareholder.
Of course, "forever" is a long time. Who knows if Berkshire will really hold on to the stock for that long? But it's clear that Berkshire and Buffett do love the food business for the long haul.
And if you have to wonder if the company wants to do even more shopping ... with or without 3G.
"Berkshire is now a sprawling conglomerate, constantly trying to sprawl further," he wrote in his annual shareholder letter earlier this month. He added that Berkshire expected to partner even more with 3G.
Related: Warren Buffett knows who Berkshire's next CEO is
There has been speculation that 3G could be interested in making a run for Pepsi (PEP).
It's hard to imagine Buffett backing that given his affinity for and investment in Coke. But given the struggles that Coke has faced on Wall Street during the past few years, some have fantasized about a Berkshire/3G takeover of Coke.
Either deal is not likely anytime soon considering how large both companies are. Coke is worth $177 billion. Pepsi's market value is $142 billion.
But Berkshire could still do some smaller food deals. In this year's shareholder letter, Buffett listed the criteria that he and Berkshire vice chairman Charlie Munger use to determine if an acquisition is a good fit.
They're looking for blue chip firms with little debt and a history of delivering strong earnings and returns on equity. Buffett added that the company was targeting companies in the $5 billion to $20 billion range ... and that the bigger the company was the better.
Based on that checklist, Campbell Soup (CPB), spice maker McCormick (MKC) and J.M. Smucker (SJM) all appear to fit Berkshire's desired characteristics.
So maybe one of them will eventually wind up in Buffett's growing corporate pantry after he's done digesting the Kraft deal.
CNN's Poppy Harlow will be interviewing Warren Buffett on Tuesday. What would you ask him? Send a tweet to @PoppyHarlowCNN and use #AskBuffett.