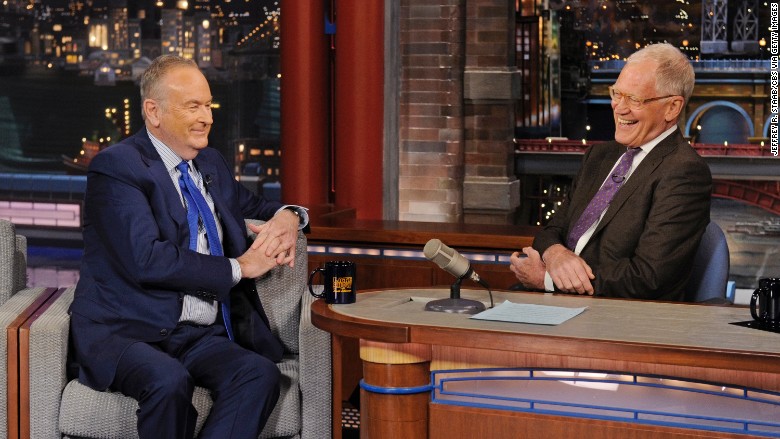 Bill O'Reilly gave a winner's smile Tuesday as he shrugged off recent claims that he had exaggerated his exploits and said viewers expressed their trust in him with a surge in the size of his audience.
"So we had a controversy there and we put forth what my side was, they put forth what their side was," O'Reilly said during an appearance on the "Late Show with David Letterman." "Folks decided, and you know, it worked out OK for me. I got even more viewers."
The Fox News host also came to the defense of Brian Williams, the NBC News anchor who has been suspended after falsely claiming to be in a helicopter that was shot down in Iraq in 2003. NBC "should bring him back," O'Reilly said.
"We have a sport in the United States that's called Let's Destroy the Famous Person. That's what happened to him," O'Reilly said.
O'Reilly appeared on the "Late Show" to promote "Killing Jesus," National Geographic Channel's latest film adaptation of his book series on the deaths of various historical icons.
Related: Bill O'Reilly's 'Killing' machine has sold 6.8 million books
During Tuesday's show, Letterman asked O'Reilly, "Have you ever fibbed on the air?"
"Not that I know of," O'Reilly said. "What I do is analysis, different from what other people do."
Already the top-rated show on cable news, "The O'Reilly Factor" saw a significant ratings spike last month after Mother Jones reported on the host's exaggerated accounts of covering the Falklands War in 1982. Ratings for the "Factor" also went up when O'Reilly was embroiled in a sexual harassment suit with a former producer in 2004.
O'Reilly told Letterman on Tuesday that his ratings are "twenty percent up" in the wake of the recent controversy.
"When people thought you were making stuff up -- " a skeptical Letterman observed.
"But they didn't think that," O'Reilly interjected. "But they didn't think that because I hit it immediately hard and I said, 'Look, this is the facts, this is what happened."
O'Reilly employed a ferocious response last month after questions were raised about his Falklands accounts.
Mother Jones reported that O'Reilly has repeatedly claimed to have covered the conflict from a "war zone," despite the fact that he was based in Buenos Aires -- thousands of miles from the battlefield. O'Reilly's account of a protest in Buenos Aires that erupted at the conclusion of the Falklands War has also been questioned.
In several interviews after the Mother Jones story ran, O'Reilly mounted a furious rebuttal. He disparaged David Corn, a co-author of the Mother Jones story, and insisted that he never embellished his experience covering the war.
Some of O'Reilly's other accounts have also been disputed.
He was forced to clarify comments he made about witnessing nuns shot in the back of the head during the civil war in El Salvador and that he saw people in Northern Ireland "kill and maim their fellow citizens." O'Reilly later admitted he only saw photos of those atrocities.
O'Reilly has yet to address a recording of a phone conversation that appears to contradict his claim to have been at the scene in 1977 when an associate of Lee Harvey Oswald killed himself in Florida.
O'Reilly said his credibility is reflected in his ratings supremacy.
"I've been on the air, 19th season now," O'Reilly told Letterman. "Fifteen years at number one. Our ratings now are as high as they've ever been. So I think they do trust me, and I'm glad they do."