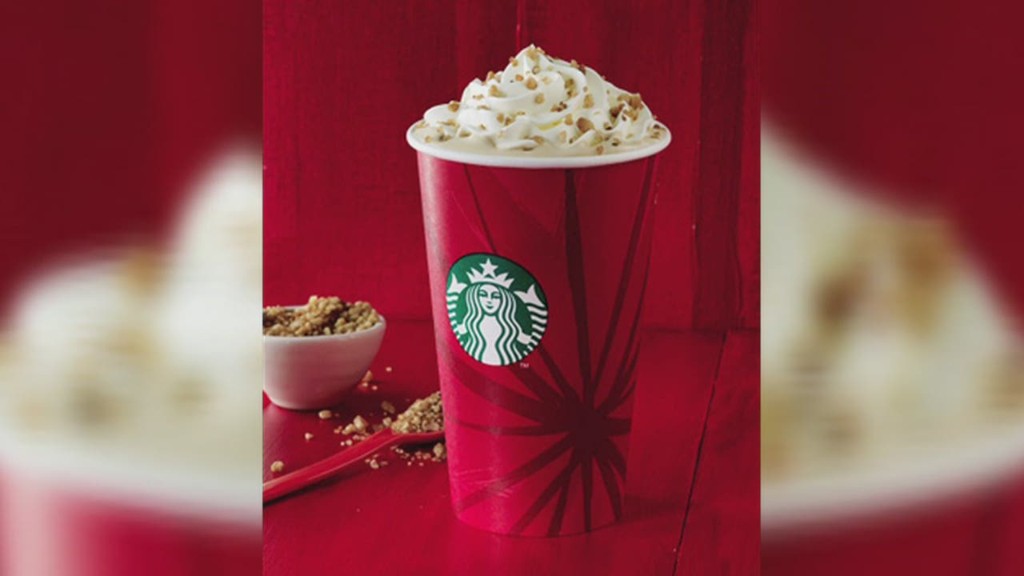 Happy birthday Frappuccino!
Starbucks is celebrating 20 years of putting coffee and ice in a blender with a limited edition Birthday Cake Frappuccino, which will be sold at all stores from March 26 to March 30.
Starbucks first started experimenting with frozen coffee concoctions at its Los Angeles store in 1993. Two years later, the company was selling coffee and mocha Frappuccino drinks at all of its 500 stores in United States and Canada.
Today, the Frappuccino comes in a variety of flavors and is sold throughout the world at Starbucks' 21,000 locations.
To celebrate, Starbucks is offering a pink version of the drink made with vanilla, hazelnut and "raspberry-infused" whipped cream.
Starbucks (SBUX) recalls the origins of the Frappuccino in a wistful press release.
It all started in Los Angeles during a particularly hot summer in 1993. That's when Dina Campion, who oversaw 10 Starbucks stores in Southern California, noticed that other coffee shops were selling blended coffee drinks.
"A couple of store managers and I felt there was a huge opportunity for Starbucks," says Campion, who is now part of Starbucks digital team.
Related: Starbucks stops writing 'Race Together' on cups
Starbucks did not come up with the name "Frappuccino." It acquired the name when it bought The Coffee Connection, a Boston coffee shop that made a drink called the frappuccino in a soft-serve machine.
Starbucks says the Frappuccino helped transform the company by bringing in customers during warm weather, when demand for hot coffee slumps, and attracting people who weren't coffee drinkers but craved something sweet.
"With Frappuccino, we were able to level out the dips in store traffic in the summer," Campion said.
Starbucks sold 200,000 Frappuccino drinks in the first week, twice what it had expected, according to Dan Moore, director of brand management at Starbucks. That summer, the Frappuccino accounted for 11% of sales and helped drive Starbucks stock to a record high.
One year after it launched, Starbucks teamed up with Pepsi (PEP) to sell bottled Frappuccino.
Related: Starbucks wants to be the 'Willy Wonka of coffee'
CEO Howard Schultz was so confident that the drink would be a hit that the company didn't bother to do any market testing, according to his book, Pour Your Heart Into It.
"Pepsi ramped up production as quickly as possible, but even then we could supply only West Coast supermarkets for the summer of 1996," Schultz writes in the book. "We couldn't make it fast enough."
From there, Starbucks expanded into Frappuccino drinks made without coffee or tea and custom flavors with soy milk, syrups and toppings.
Today, the Frappuccino has become part of the popular culture zeitgeist, judging by its social medial presence. It has 10.9 million fans on Facebook (FB), 67,000 followers on Twitter (TWTR), 219,000 followers on Instagram.