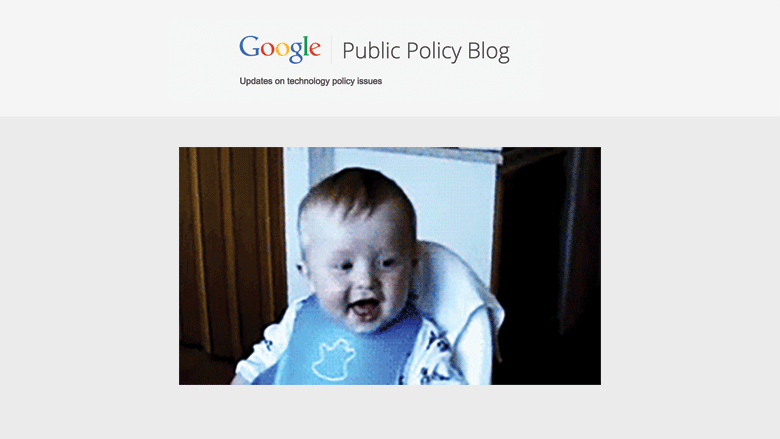 Google is tearing into a recent Wall Street Journal report that claimed Google had gotten away with abusing its monopoly power.
And this was no standard response. Google (GOOGL) used playful animated GIFs to make seething points directed at the Journal and its parent company News Corp.
Here's the back story. In 2013, the Federal Trade Commission decided not to sue Google over antitrust issues. However, on March 19, the Journal revealed that FTC investigators back then did actually feel that Google used abusive, anticompetitive tactics.
In a blog post Friday, Google called the Journal's report inaccurate.
Google's senior vice president of communications and policy, Rachel Whetstone, countered several points in the story.
For example, the Journal report hinted at Google's influence in the White House, counting 230 visits there. But Whetstone said engineers were busy fixing Healthcare.gov and discussing patent reform and self-driving cars.
So what about those GIFs? Last year, News Corp CEO Robert Thomson had said that Google is creating a "less informed, more vexatious level of dialogue in our society."
Google's response? A laughing baby.
And to underscore what it felt about the substance of the Journal report, the Google post closes with this image: An old-school Jewish New Yorker saying "Aha!"
This GIF thing might seem odd, but get used to it.
House Speaker John Boehner is resorting to Taylor Swift GIFs to reach out to young Americans. And the Republican-led U.S. House Judiciary Committee just issued an anti-immigration press release full of them.