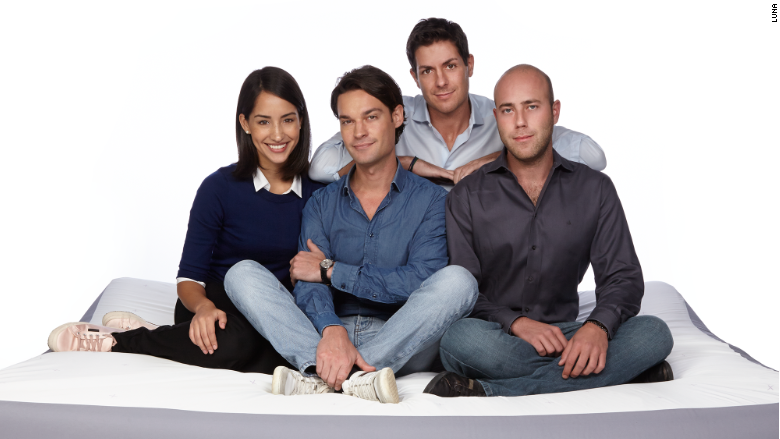 Heat up the bed, lock the door, turn off the lights, and brew coffee in the morning...all from bed.
A lot of startups are rushing to connect your entire home, and the latest entry is Luna, which promises to replace your "dumb" mattress cover with a "smart" one.
"Everything's getting smarter and smarter. The most dumb thing is my bed. And I spend one-third of my life there," said Matteo Franceschetti, co-founder of Luna.
Luna's mattress cover acts as a hub to integrate existing smart technologies, including your thermostat (Google's Nest), speakers (Beep), lighting (Emberlight) and locks (Lockitron).
It also has its own features.
Luna is very couple-friendly: Two sides of the mattress can be controlled independently so one partner can, say, heat the bed to 75 degrees, while the other opts for 70 degrees.
The team works with three scientific advisers who weigh in on the health components of certain features like temperature regulation.
Luna also learns your behavior. If you typically go to bed at a certain hour, it'll heat up the mattress to your liking in advance. It can also be controlled manually via your smartphone.
Tiny sensors embedded in the product enable sleep tracking. They're also used to sense a person's sleep cycle, gauging the best time to wake you up.
As someone with restless legs syndrome, Franceschetti, 33, said he now cross-references his sleep data with his daily activities to understand what aggravates his symptoms.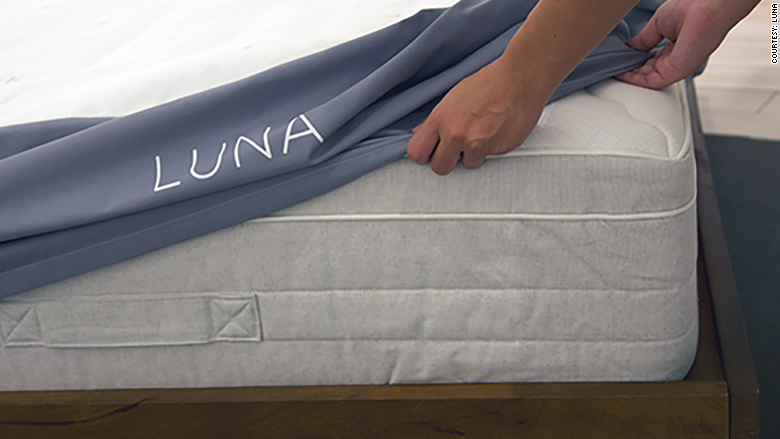 He and Massimo Andreasi Bassi, now co-founder and chief technology officer at Luna, came up with the idea for a smart bed in January 2014, after talking about Franceschetti's sleep problems.
Two months later, he and Bassi, 30, sketched out their idea for Luna on a napkin at a pizzeria to show a friend. Their friend wrote them a $25,000 check that night.
"We weren't looking for money [but] money started to come," said Franceschetti, who sold his international solar energy financing firm to Panasonic in March 2014.
In January, Luna launched an Indiegogo campaign, selling its products for $179 to $229 depending on bed size (retail price $249 to $289). It ended Thursday, surpassing its original goal of $100,000 ten-fold, raising over $1.1 million from over 5,300 backers.
But Franceschetti said the most exciting part hasn't been the amount of money that has rolled in but rather the insights gained from backers. Their responses which will inform future product decisions.
By late August, they'll start shipping out the mattress covers to their Indiegogo backers. (They plan to submit and receive for government approval by then).
But those who want a Luna can still purchase the product on pre-order, just at a higher pricepoint.
Still, there are more big things ahead for the firm. They're currently participating in Stanford University's nonprofit accelerator, StartX -- and are in the midst of fundraising. They've raised $1.1 million to date from undisclosed angel investors.
They're also already considering new features -- cooling the bed is likely on deck next due to demand.