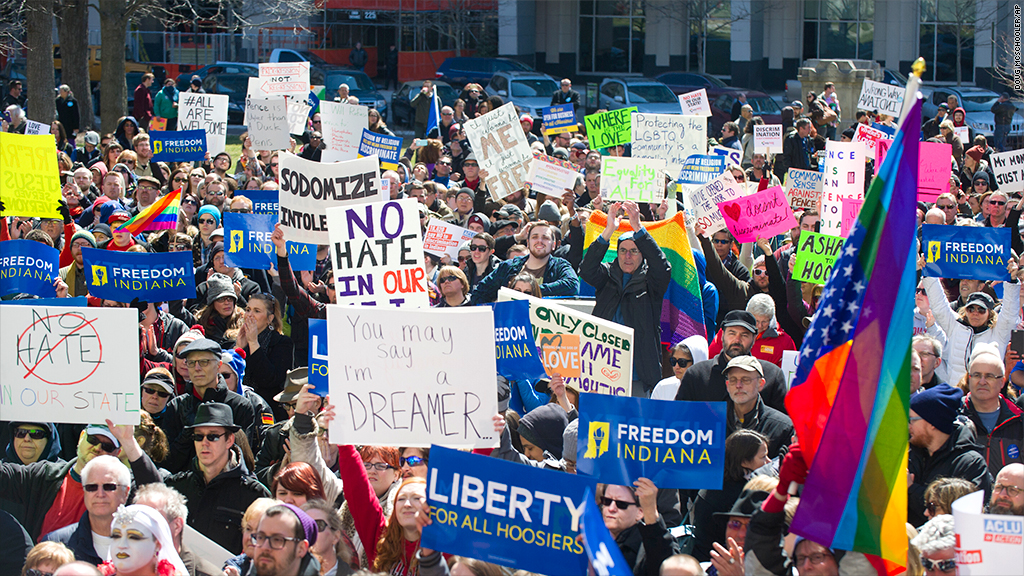 Indiana's largest newspaper delivered a clear message on its front page Tuesday to state officials: "Fix this now."
The bold headline engulfs half of the front page of the Indianapolis Star, and is aimed at the controversial "religious freedom" law that critics say allows discrimination against gay people.
In the accompanying op-ed that also appeared on page one, the newspaper's editorial board said that the Hoosier State had reached a "critical moment" in its history, and that "much is at stake."
Indiana's reputation, the editorial continued, is "at risk" as a result of a bill that was signed into law last week by the state's governor, Mike Pence. Pence said he signed the Religious Freedom Restoration Act to "ensure that religious liberty is fully protected under Indiana law." He insisted last week that the bill was "not about discrimination."
Related: Indiana backlash: More CEOs join in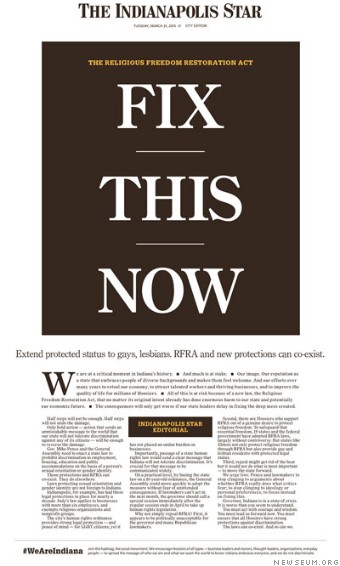 In Tuesday's editorial, the Indianapolis Star called on Pence and the state's legislature to "enact a state law to prohibit discrimination in employment, housing, education and public accommodations on the basis of a person's sexual orientation or gender identity."
"Those protections and [the Religious Freedom Restoration Act] can co-exist," the editorial board wrote. "They do elsewhere."
The law has attracted enormous backlash across the country, thrusting a tranquil state that is synonymous with basketball under an unusually harsh microscope. This weekend will mark the seventh time that Indianapolis will host the NCAA Men's Final Four.
Some critics -- including former NBA legend Charles Barkley -- have argued that the state should no longer host such events as long as the controversial law is in place.
A slew of business leaders and organizations have spoken out against the law. Angie's List CEO Bill Oesterle said the company's campus expansion in Indianapolis is "on hold" in the wake of the law's enactment.
Related: Rolling Stones tour to play Indiana July 4
On Monday, Connecticut Gov. Dannel Malloy signed an executive order blocking state-funded travel to Indiana, as well as to other states that have similar laws on the books.
As its front page went viral late Monday and early Tuesday, the Indianapolis Star was celebrated by opponents to the law. Indiana Sen. Joe Donnelly urged his followers on Twitter to "read this important editorial from our state's largest newspaper."
For some, it was a testament to the enduring power of the daily newspaper.
"This is why front pages still matter," said the journalist Ana Marie Cox.