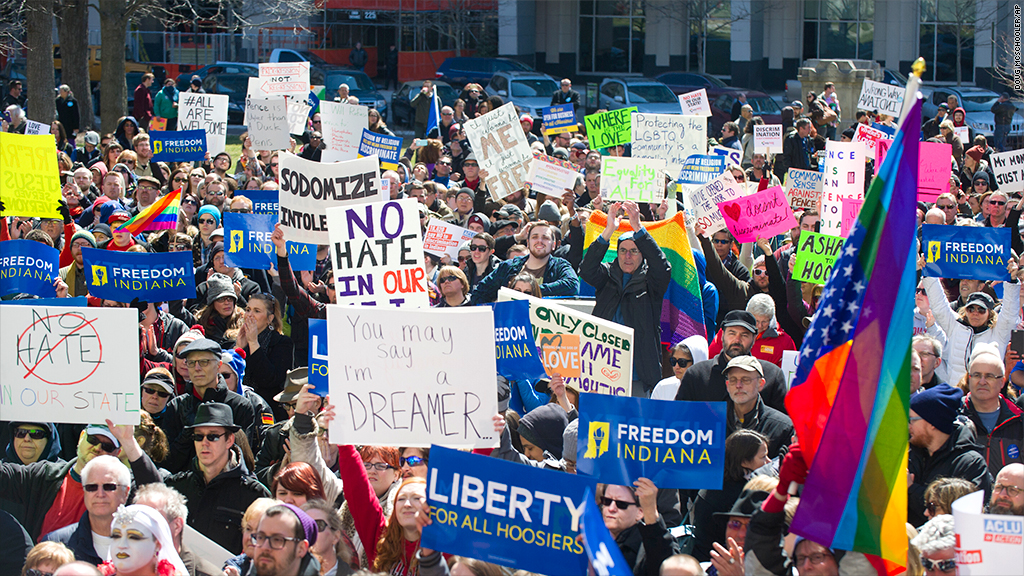 The Rolling Stones announced a North American tour Tuesday which will include a stop in a now-controversial location -- Indianapolis, Ind.
The band has scheduled a concert at the Indianapolis Motor Speedway on July 4 near the end of the two-month tour. The Speedway is one of the largest venues they'll play in, capable of holding roughly 400,000 fans.
Indiana's "Religious Freedom" act, signed into law last week, allows individuals and business who oppose homosexuality for religious reasons to refuse to do business with gay, lesbian and transgender people.
The law has spurred a big backlash from numerous CEOs and businesses, including some based in the state.
Related: More CEOs join Indiana backlash
Some companies and state governments have banned travel by their employees to Indiana because of the law. The indie rock band Wilco announced it was canceling a May 7 concert in Indianapolis. But other major events, including this weekend's NCAA Final Four, will go on as scheduled in Indianapolis.
The Rolling Stones "Zip Code" concert tour starts May 24 at Petco Park in San Diego and concludes July 15 in Quebec at Le Festival d'ete de Quebec.
A spokesperson for the band couldn't be reached for comment.
One of the most successful rock bands of all time, the Stones celebrated its 50th year in 2012. The band set a record for concert grosses when it pulled in $550 million in ticket sales with its two-year "A Bigger Bang," which started in 2005.