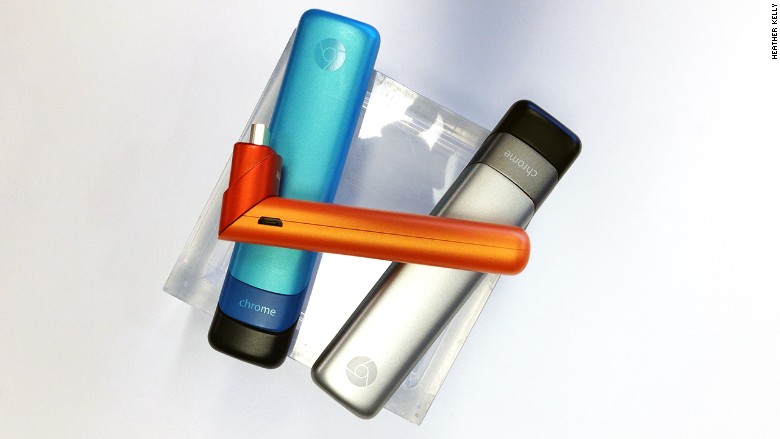 Sticks are having a moment. First came the inexpensive video streaming devices that plug into the back of a TV -- Roku, Chromecast, Amazon Fire TV.
Now, Google has crammed an entire Chromebook onto a stick. Made by Asus, the Chromebit connects to any monitor through an HDMI port.
The Chromebit doesn't have an exact price yet, but Google says it will cost less than $100. Due out this summer, it has 2GB of RAM and 16 GB of storage. In addition to the HDMI connector, the Chromebit has a USB 2.0 port and can connect to other peripherals over Bluetooth. It will come in a number of festive colors.
Google (GOOG) isn't the first company to shrink an entire computer into a dongle. In January, Intel (INTC) introduced the $149 Windows 8 Compute Stick. There are also similar Windows devices from Hannspree and Beelink. These computers-on-a-stick are ultra portable (they fit in your pocket) but not really mobile (unless you also have a tiny monitor, keyboard and power source in your pocket).
Caesar Sengupta, Google's vice president of product management, said he sees the Chromebit being used by a backpacker in an Internet cafe, by students docking into the school's monitors, at airports, or at home, where family members can swap out their own computer at the same monitor. Interestingly, the company seemed most excited about the Chromebit's potential for controlling digital signs and billboards.
Google is expanding its inexpensive four-year-old Chromebook line as wide as it can, and updating the Chrome OS to be more consistent across different devices. Here are a few other highlights from Chrome-land:
* A flipping Chromebook: A bendy laptop and tablet hybrid, the Asus Chromebook Flip is a metal laptop with a touchscreen. Flip it over and the OS automatically switches to tablet mode. The $249 Flip will be available in the spring.
* Chromebook for kids: Kids are often gross and not terribly coordinated. The Haier Chromebook 11e is made specifically for the grade-school set. The white laptop is ruggedized, meaning it's built to be dropped and tossed around. It's even spill resistant.
* Your smartphone is your password: An update to the Chrome OS will let you log into a Chromebook without a password. Instead, it will detect that your phone is nearby and use that to authenticate your identity.
* Dirt cheap Chromebooks: There are two new super inexpensive Chromebooks that cost $149 and can be pre-ordered Tuesday. The Haier Chromebook 11 is being sold on Amazon (AMZN), and the Hisense Chromebook will be on shelves in Walmart (WMT).