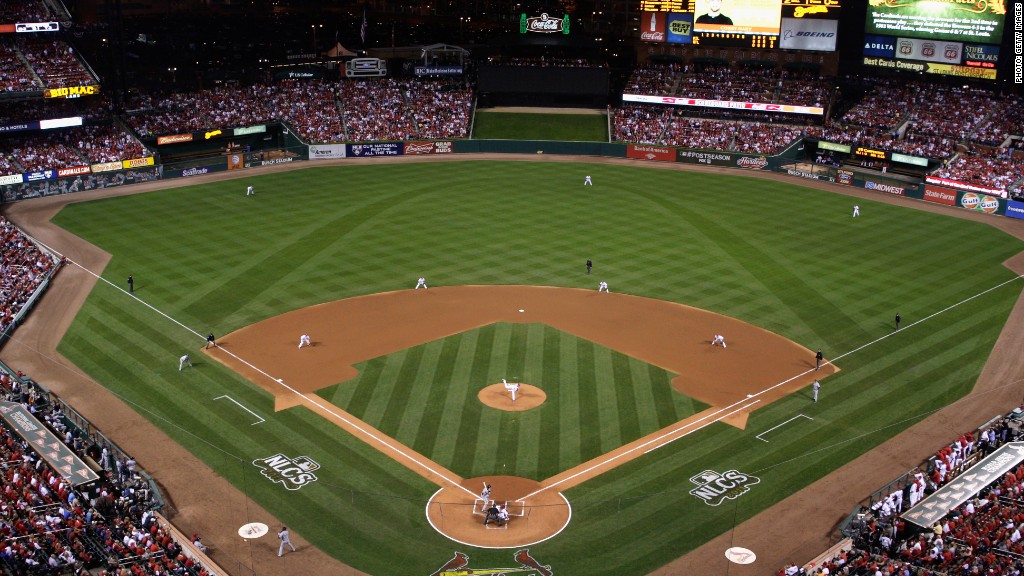 It's almost Opening Day for America's pastime! And who doesn't love baseball?
Traders and economists clearly do.
You'll often hear people talking about swinging for the fences to find home run stocks and discussing the economic recovery in terms of innings.
Former Federal Reserve chair Ben Bernanke even promised in his first tweet earlier this week that his new blog will focus on "economics, finance, and sometimes baseball."
With this in mind, we've come up with a list of publicly traded companies with ties to the diamond. It's a roster of stocks that diehard Yankees and Red Sox fans should be able to support.
If you made an exchange-traded fund for them, the ticker symbol could be BASE. Here's a look at the lineup card.
Amer Sports (AGPDY): The Finnish company already owns baseball and glove maker Wilson. It just announced a deal to buy the king of bats: Louisville Slugger.
Related: Wilson buys Louisville Slugger
Mizuno: The Japanese sports equipment giant -- listed on the Tokyo Stock Exchange -- may be most famous for its golf irons. But it also makes gloves, cleats, catcher's masks and other baseball products.
Jarden (JAH): You may not recognize the name of this consumer goods conglomerate. But you know its brands -- such as mop maker Quickie, Yankee Candle and Crock-Pot. It also owns baseball glove king Rawlings.
And you could argue that Jarden has another baseball brand with Mr. Coffee. After all, Yankees great Joe DiMaggio was a long-time celebrity spokesman.
Aramark (ARMK): Beer here! This food services company operates concession stands for several major league stadiums, including Red Sox home Fenway Park, Citizens Bank Park in Philadelphia, Citi Field in New York (the Mets) and Coors Field in Colorado.
Related: Minor league ballpark to sell Krispy Kreme bacon donut hot dog
Berkshire Hathaway (BRKB): It shouldn't be that big of a surprise that Warren Buffett is a fan of baseball -- and the business of sports.
The Oracle of Omaha has a great minor league team to root for after all: The Storm Chasers (part of the Kansas City Royals farm system) are the two-time defending Triple-A champs. Berkshire owns athletic apparel company Russell and ball manufacturer Spalding.
Pepsi (PEP): A trip to the ballpark is never complete without that iconic box of caramel popcorn and peanuts. Cracker Jack is part of Pepsi's Frito-Lay food empire.
If you decide to buy any of these stocks, here's hoping you don't strike out with any of them. Happy investing. And play ball!