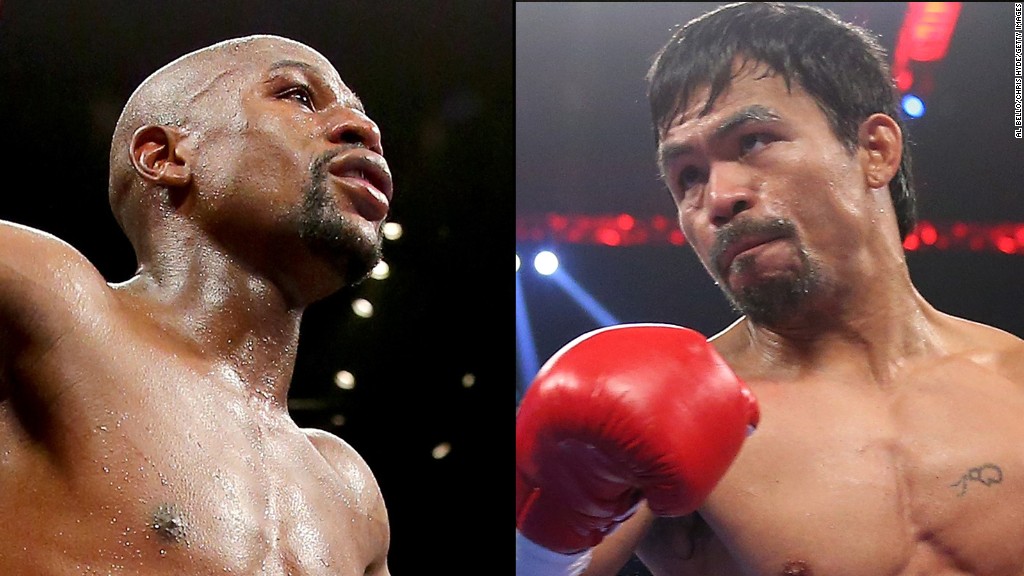 Tickets to see Floyd Mayweather fight Manny Pacquiao on May 2 are selling for knockout record prices.
The median price is currently $8,805 for tickets sold on the resale market, according to price tracker SeatGeek. That's the highest median price for any sporting event in U.S. history.
The cheapest floor seat is currently listed for $28,080.
"It is staggering, but the market is absolutely there," said SeatGeek analyst Conner Gregoire. "It's a high roller, status event. I think it's largely VIP and celebrity driven. There's not a not of regular folks who will be in the market for these seats."
Fans paid a median price of $3,290 on the secondary market to see the New England Patriots defeat the Seattle Seahawks in February's Super Bowl.
Related: Only high-rollers get ringside seats for Mayweather-Pacquiao
The face-value of the tickets start at $1,500 for a seat in the rafters and go to about $10,000 for ring side, Gregoire said. And you'll need to be a celebrity or a high roller customer of the MGM Grand, where the match is being held, in order to even get a chance to buy the best seats at face value.
The arena has a capacity of 17,000, but only about 600 or 700 tickets will be available to the general public in a sale expected next week, Gregoire said.
Related: Mayweather-vs Pacquiao - Biggest payday in sports
Fight fans have been waiting at for years to see the Mayweather-Pacquiao bout. It matches up the undefeated Mayweather, the world's top ranked fighter, against Pacquiao, who is ranked No. 3 by Ring magazine.
Pacquiao has a 57-5-2 lifetime record as a professional fighter, and is also an elected member of the Philippine Congress.
The previous record median price for a fight ticket was $1,616 for Mayweather vs. Saul Alvarez, also held at the MGM Grand in September 2013.