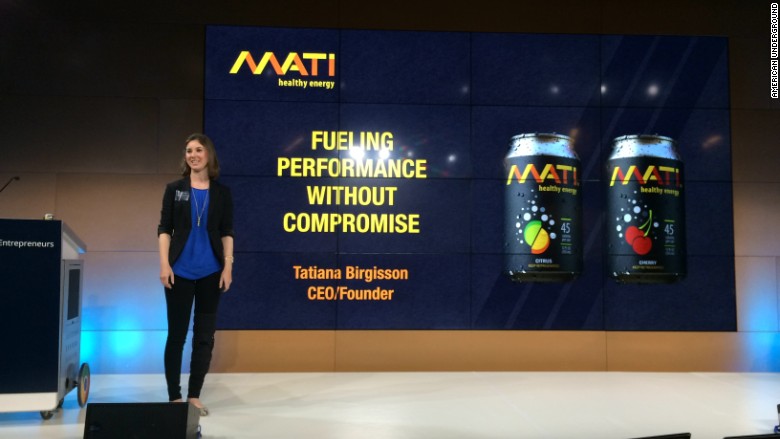 It's a big day for Mati Energy. The health drink startup just beat an all-star team of 11 hot tech firms to emerge as the grand winner at Google Demo Day.
What's more, founder Tatiana Birgisson, 25, also scored a $100,000 personal investment from AOL co-founder Steve Case.
Case was one of three judges at event, along with Google Ventures' Blake Byers and Ann Winblad, co-founder of Hummer Winblad Venture Partners.
Birgisson, 25, was especially nervous ahead of her presentation.
"My startup was the only non-tech company presenting today. I didn't know what that would mean for me," she said.
In fact, Mati is the only non-tech company that's ever presented at Google Demo Day -- a high-profile event in its second year. It brings together a select group of startups to pitch to more than 100 investors at Google's (GOOGL) headquarters in Mountain View, Calif.
The day isn't over for Birgisson: Now she'll work to line up other investors. (Some of last year's startups raised over $1 million from investors at the event.)
Related: Wanted: Women Entrepreneurs
Birgisson came up with the idea for Mati in her senior year at Duke University.
"I needed a healthy caffeinated drink, and there was nothing in the market that I liked," she said. So she created her own using black tea leaves, fruit and a pasta pot.
Six months later, she was selling 5 gallon kegs (priced at $55 each) filled with her Mati energy tea to offices in Raleigh, including local accelerator American Undergound.
She graduated in 2012 and moved into American Underground that December.
Today, Mati is sold as a canned carbonated energy drink in 30 Whole Foods (WFM) stores across the southeast. Birgisson said the startup generated $100,000 in sales last year and is now profitable.
Birgission said Case and the other judges drank Mati and liked it.
"I'm also relieved that they recognized that tech isn't the only place where innovation is happening," she said. "They all agreed that the food industry is ripe for disruption and Mati is a great example of it."