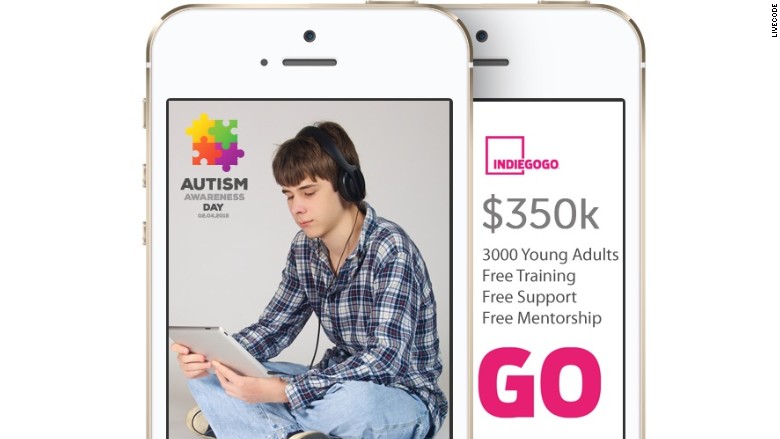 LiveCode is raising money to teach people with autism to code mobile apps.
The software development company has a goal to raise $350,000 through a 45-day crowdfunding campaign on Indiegogo. The money will pay for 3,000 young autistic adults to take a six-month online training course.
The program is a modified version of LiveCode's Create It product, which teaches people with no coding experience how to create basic apps like messaging, calculators, and clocks. LiveCode says the goal is to give people on the autism spectrum an opportunity to develop job skills.
Autism is a developmental disability caused by a neurological disorder that affects a person's social and communication skills. But most people with autism are highly skilled in other ways. Many are particularly adept at recognizing patterns and paying close attention to detail.
"That can make coding tasks ideal," LiveCode says.
The company launched its Indiegogo fundraiser on Thursday, to coincide with World Autism Awareness Day.
In 2008, by a unanimous vote, the United Nations General Assembly established April 2 as World Autism Awareness Day to "highlight the need to help improve the quality of life of children and adults, who are affected by autism, so they can lead full and meaningful lives."
Earlier this year U.N. Secretary-General Ban Ki-moon called on businesses to make firm commitments to hire autistic people.
"[They] have enormous potential," the Secretary-General said in a statement. "Yet even where autism awareness is most advanced, more than 80% of adults with autism are unemployed."
LiveCode wants to help in this respect too. Part of the new campaign is dedicated to job placement.
The company plans to create an online job marketplace where trainees can advertise their skills as freelance app developers.
In addition, "a very small number" of people who finish the training will be hired by LiveCode for a project based in Edinburgh, Scotland, where the company is headquartered.
"The goal is to create a sustainable commercial venture to boost employment prospects for those on the autism spectrum," LiveCode says. "If successful we will look at expanding to other cities and/or hiring from our autism-friendly online marketplace to create content, in future years."