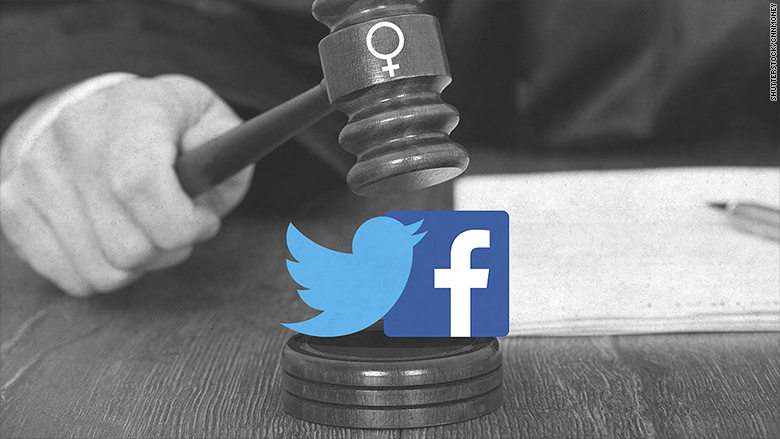 The trial that pushed Silicon Valley's gender issues into the spotlight is over, but sex discrimination in the tech world is getting more attention than ever.
Ellen Pao sued her former employer, venture capital firm Kleiner Perkins, for sex discrimination and retaliation. After a month of testimony, the jury sided with Kleiner Perkins.
Now there are two other potentially big sex discrimination cases on the horizon: One against Twitter and one against Facebook.
Tina Huang's lawsuit against Twitter (TWTR) doesn't single out individuals. She claims the company has a secretive system for promoting employees that is biased against women.
"We are focused primarily with those systemic problems: Twitter's policies and procedures and how those practices adversely affect women, rather than just the specific things that happened to Ms. Huang," said Alec Segarich, of law firm Lohr Ripamonti & Segarich, which is representing Huang.
Chia Hong is suing Facebook (FB), as well as her former boss and unnamed Facebook employees. That case has more specifics on individuals' allegedly offensive behavior, but would have narrower implications.
Twitter and Facebook both dispute the claims. Spokespeople from both firms say they believe the facts will show the plaintiffs were "treated fairly."
The next wave of lawsuits is happening in a post-Kleiner world
Before there was even a verdict, Pao may have helped inspire these women to come forward. The firm that represented Pao, Lawless and Lawless, is also representing Hong.
After the jury's verdict, there was an outpouring of support for Pao online using the hashtag, #thankyouellenpao. Some supporters took out a full page "Thanks Ellen" ad that ran in the Palo Alto Daily Post.
However, the Pao case also showed how difficult the process can be for the plaintiff. Pao's personal life was dragged into the spotlight, and her personality and shortcomings were picked apart on the witness stand and online.
Related: Tech's highest paid women
And the verdict for Kleiner Perkins might encourage the plaintiffs to settle.
"It will likely cause the plaintiffs' attorneys to at least pause and question whether they can find jurors who haven't heard anything about the Kleiner Perkins or Ellen Pao case," said Morin Jacob, an employment attorney with Liebert Cassidy Whitmore in San Francisco.
Similarly, the amount of negative press Kleiner Perkins received might influence Twitter and Facebook to avoid trial. (Tinder settled a recent sexual harassment and discrimination case out of court.)
Silicon Valley companies know there's a problem
Many Silicon Valley companies have publicly owned up to their lack of diversity. Only 6% of venture capital partners are women, according to the Diana Project at Babson College. At Kleiner Perkins, that number is around 20%.
Related: 'Things will not change' after Pao verdict without push
Facebook's global staff is 31% female and 69% male, according to the diversity report it released last summer. The number of women shrinks to 15% when you look at just tech employees. Meanwhile, Twitter's diversity report found that 30% of the entire company is female, and just 10% of its technical employees.
Self-awareness isn't a solution to the problem, but it is an important first step. Efforts to hire more women might not matter if the company culture keeps them from moving up or sticking around. These lawsuits, even if they're unsuccessful, can push tech companies to recognize and address any culture issues.
Twitter suit could become a class action
Huang's complaint requests class action status, which means there's a chance more female Twitter engineers could join the lawsuit. This would have an even bigger financial impact on the company.
Fear of class action suits could act as a wake-up call for other tech companies to drastically revamp their culture and promotion processes.
Suits show discrimination is often subtle and hard to prove
These cases are primarily gender discrimination suits. The Facebook suit also alleges sex/gender harassment and race discrimination.
The plaintiffs in these cases claim they were denied opportunities such as promotions because they were women. The Kleiner Perkins and Facebook cases also allege retaliation for complaining about discrimination.
Related: 9 reasons to be hopeful about women in tech
Some of the alleged examples of male-dominated culture are blatant. The Pao case included tales of sexual advances, affairs and inappropriate conversations about porn stars. In the Facebook suit, Hong says her male boss asked her why she wasn't home with her children.
Other instances are smaller, easier to deny and harder to prove, like double standards about personality traits and being excluded from all-male meetings. The plaintiffs have argued that they were equally or more qualified than male employees who were promoted instead or who replaced them after they were terminated.
"Kleiner Perkins dodged a bullet with a verdict in its favor, but this case should be used as a teaching tool and treated as a wake-up call for employers," said Jacob. "It remains to be seen, but there could very well be different results if trials happen in the Facebook or Twitter cases."