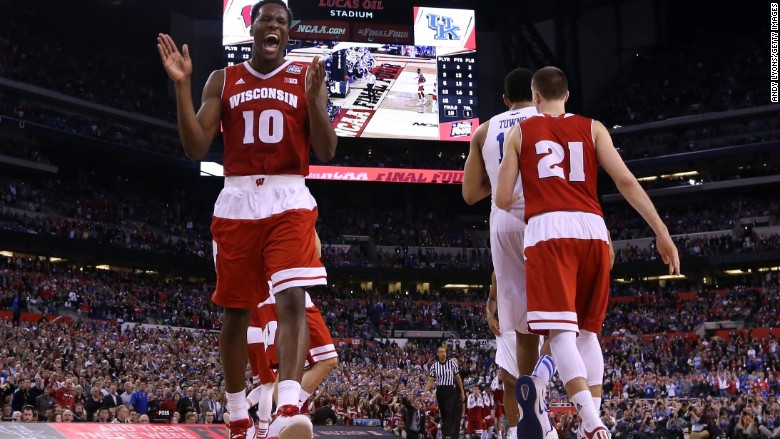 Kentucky's perfect season came to an end on Saturday night, but the TV ratings for its contested Final Four match-up with Wisconsin were pretty flawless.
Turner Sports' coverage of Saturday's NCAA Tournament National Semifinal between the two schools averaged an overnight rating of 13.3.
This is the highest rating for a Final Four game in 22 years, according to the network.
The back and forth barn-burner between the undefeated Wildcats and the underdog Badgers peaked with a 16.4 rating during the final minutes of the game.
The other half of the Final Four doubleheader, Duke vs. Michigan State, averaged a 9.6 overnight rating -- still enough to rank as the highest overnight rating in a decade.
The games were shown across three channels -- TNT, TBS and truTV -- so the overnight ratings combine the audience for all three.
Until recently, the Final Four match-ups have been shown on broadcast television. So these overnight ratings for TNT, TBS and truTV mean Turner can lay claim to having the highest-rated college basketball games in cable history.
Turner Sports is owned by Time Warner, which also owns this web site. Back in 2011, Turner and its March Madness partner CBS paid billions of dollars for the rights to the basketball games through 2024.
March Madness has also been -- pardon this pun -- a slam dunk hit via online streaming.
The tournament's streaming app, NCAA March Madness Live, has brought in more than 77 million live video streams through Saturday's national semifinals -- and that's an all-time record.
The end of Kentucky's perfect season came as a shock to both college basketball analysts and fans alike. Only 4.4% of 11.5 million ESPN.com brackets picked a Duke-Wisconsin final.