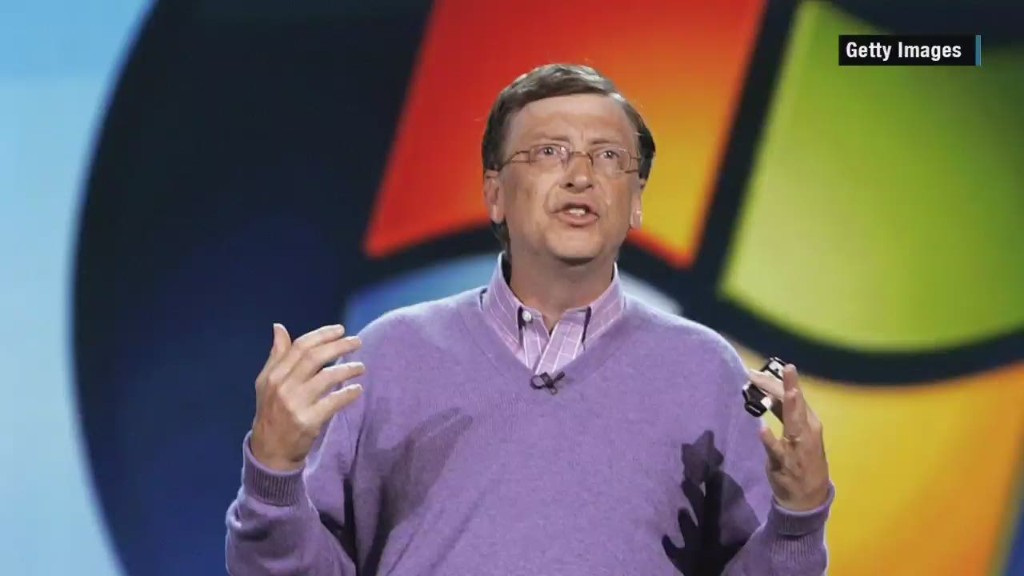 It's been 40 years since Bill Gates and Paul Allen founded Microsoft.
To mark the anniversary, Gates sent an email to Microsoft employees Friday, which CNNMoney was able to independently confirm. The message, which made the rounds on Twitter, invokes the origin of Microsoft (MSFT), which opened it doors on April 4, 1975.
"Early on, Paul Allen and I set the goal of a computer on every desk and in every home. It was a bold idea and a lot of people thought we were out of our minds to imagine it was possible," Gates wrote. "It is amazing to think about how far computing has come since then, and we can all be proud of the role Microsoft played in that revolution."
Related: 11 things you need to know about the new Surface
In the email, Gates also looks toward the future, supporting the leadership of Microsoft's current CEO, Satya Nadella.
"In my role as technical advisor to Satya, I get to join product reviews and am impressed by the vision and talent I see," he said, specifically pointing to products like Cortana, Skype Translator, and HoloLens.
Gates, 59, has undergone a transformation himself in that time. Now worth nearly $80 billion, he is the world's richest man and has become a major figure in philanthropy.
He wrote to employees: "I hope you will think about what you can do to make the power of technology accessible to everyone, to connect people to each other, and make personal computing available everywhere."
Gates stepped down as chairman of Microsoft last year, after leaving his day-to-day role in 2008.
Allen has also become a noted philanthropist, making headlines last year for pledging to donate $100 million to combat Ebola.
Note: Updated to include confirmation that Gates sent the email.