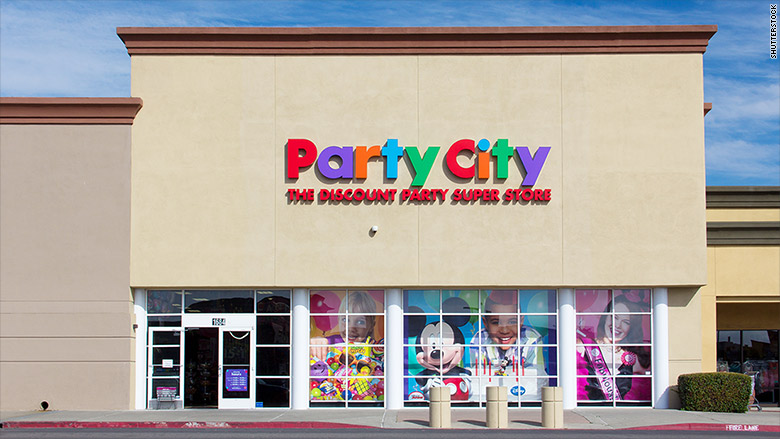 The "party" may be back on in the IPO world.
There wasn't much to celebrate about the first three months of 2015 in the IPO market. It was worst quarter for bringing companies public in more than three years, according to Renaissance Capital.
What better company to change that vibe than Party City? North America's largest party goods retailer by revenue filed paperwork Monday to list its shares on the New York Stock Exchange under the ticker symbol "PRTY."
The filing comes just days after GoDaddy (GDDY) raced around Wall Street with a strong debut of its own.
Party City plans to sell 21.9 million shares at a range of $15 to $17 a piece. Including shares the IPO underwriters can purchase, the total deal could raise up to $428 million and value the retail chain at nearly $2 billion. They have not set a date yet for the IPO.
Related: Don't panic about stocks yet
Rapid expansion plans: Founded in 1947, Party City is a major player in the $10 billion retail party goods industry that draws the biggest traffic during special occasions like Halloween, Fourth of July, New Year's Eve and the Super Bowl.
Party City has 900 locations. In addition to its namesake brand, the company also owns Halloween City, Factory Card & Party Outlet and Party Packagers. It's the largest global maker of decorated party supplies by revenue, with products in more than 40,000 retail outlets around the world.
But Party City thinks the party has more room to grow. The company plans to rapidly expand its retail store base, opening another 350 locations in North America and pushing into more international markets.
Related: GoDaddy races onto Wall Street
Too much debt? One risk investors will have to weigh is Party City's large debt load, which the company highlighted as a key risk that could hurts its financial flexibility and competitive position. Party City listed total debt of $3.4 billion at the end of 2014.
Much of that debt was incurred in 2012 when private-equity firm Thomas H. Lee Partners acquired a majority stake in Party City for $2.7 billion. THL would still own a majority stake in the company even after the planned IPO.
Related: Are we in a tech bubble or not?
DIY goes to Wall Street: Party City isn't the only company sending out IPO invitations these days.
Virtu Financial, a high-speed trading firm, also said on Monday it plans to raise up to $314 million in an offering of its own. The filing comes about a year after Virtu delayed its IPO due to controversy surrounding high-speed trading ignited by "Flash Boys," the Michael Lewis book.
The DIY industry should give the IPO world a boost next week, too. That's when Etsy, the online marketplace for homemade crafts, is likely to go public. Etsy plans to raise up to $267 million in the offering and list its shares on the Nasdaq under the ticker symbol "ETSY."