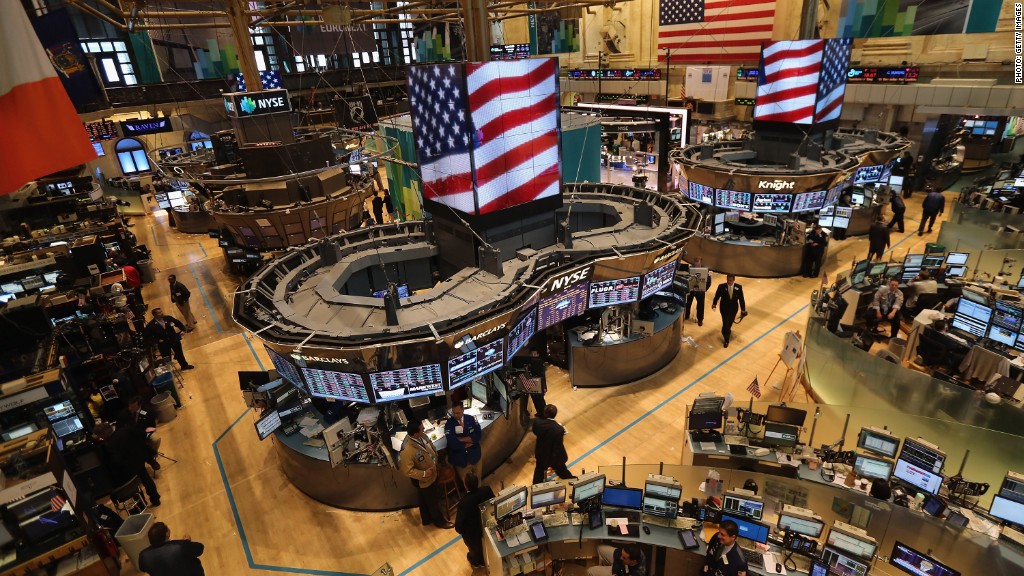 The start of a new month gives us a reason -- if we needed one -- to keep being investors and putting money to work in the market. But where to look?
We asked six of Motley Fool contributors specializing in technology and consumer goods stocks to weigh in with their top picks for April. Read on to see what they had to say about Priceline (PCLN), Under Armour (UA), Zillow (Z), Google (GOOGL), TubeMogul (TUBE), and Netflix (NFLX).
1. Rick Munarriz likes Netflix: The world's leading premium streaming video service reports quarterly results smack dab in the middle of the month, making Netflix a smart buy if you think that it will at least live up to if not exceed expectations. I obviously do. Netflix set the bar high during its holiday quarter, and it's targeting 61.44 million subscribers worldwide by the end of March. That's 4 million more than it had just three months earlier.
Related: An Interview With Michael Lewis
Netflix had a springtime stumble last year. Subscriber growth stalled after a May price hike, and the content gap between the sophomore seasons of "House of Cards" and "Orange is the New Black" seemed like it was an eternity for fickle members. That's not happening this time around. Netflix kept the exclusivity juices flowing through March with the gripping Bloodline and hilarious Unbreakable Kimmy Schmidt. It also capped March off by launching its magnetic service in Australia and New Zealand.
The stock has taken a breather since hitting $486.50 in February, but the fundamentals are as strong as ever. Investors can buy in today at a discount to recent highs, and if Netflix pulls off another blowout quarter -- it's coming off of back-to-back periods of better-than-expected earnings -- it wouldn't be a surprise to see the dot-com darling set a new high-water mark in April.
2. Andres Cardenal likes Priceline: Priceline stock has been stagnant through the last year, mostly due to investor concerns over a depreciating euro and its impact on the company's business. While this can be a material source of uncertainty in the short term, the long-term growth story in Priceline is pretty much intact, and temporary weakness seems to be creating a buying opportunity in the online travel leader.
Related: Markets Change. So Should You
Weakness in the euro is no big news, and Priceline is still delivering solid performance in spite of economic headwinds. The European currency depreciated nearly 8% versus the U.S. dollar in the fourth quarter last year. Priceline's gross travel bookings grew 17% in U.S. dollars, and by a much larger 23% on a currency-adjusted basis, so the impact on the company's business was considerable.
But Priceline still delivered a 19.4% increase in revenues and a 25.6% jump in gross profit measured in U.S. dollars during the period. The company is producing impressive performance while facing challenging conditions, and this says a lot about the health of the business and its fundamental quality.
Priceline trades at a forward P/E ratio around 20 times earnings forecasts for 2015. This is a slight premium versus the overall market, but still quite attractive for such a profitable growth business. Economic conditions come and go, but Priceline has the strength to continue delivering rapidly growing sales and earnings over the long term.
Related: The stock market could get ugly. Don't panic yet
3. Dan Caplinger likes Under Armour: The athletic apparel business has grown strongly in recent years, and rising interest has vaulted Under Armour into the upper echelon of companies in the space. The company has become the No. 2 player in the U.S. market and has made moves to broaden its appeal globally as well. Having started out as a niche provider of specific types of apparel, Under Armour's growth path has taken it into direct competition with footwear giants, yet it has maintained a reputation for being a scrappy upstart that appeals to consumers who prefer an underdog to the establishment-leader of the industry.
Under Armour reports its first-quarter earnings late this month, and investors have high expectations for the company, looking for 25% growth in sales. With arch-nemesis Nike having delivered strong results in its quarterly report last month, Under Armour will feel pressure to outperform its larger rival. Investors should especially look at Under Armour's international efforts, as well as its moves to broaden its appeal among female customers and teen athletes while offering a broader set of product lines to appeal to athletes of all levels. If it can keep succeeding, Under Armour shares could easily continue their strong run.
Related: When's the right time to invest
4. Steve Symington likes Zillow Group: When Zillow announced in January that it would let its 4-year-old agreement to receive certain MLS listings from ListHub expire on April 7, 2015, it initially seemed to leave the company in a lurch as it worked to make up for those lost listings. But Zillow recently announced that as of April 8, it will have a higher number of for-sale-by-agent listings than ever before thanks to its accelerating efforts to secure agreements with dozens of new MLS partners over the past two months.
If that wasn't enough, Zillow also closed on its acquisition of Trulia in mid-February, and stated at the time that integration efforts for what will be two leading, complementary business were already under way. Zillow CEO Spencer Rascoff also called Trulia a "game changer" given the incremental revenue opportunity its massive rental lead volume will provide to Zillow's HotPads platform. Investors will receive more information on these synergies and operating plans in Zillow Group's first-quarter earnings call next month. But for now, with shares trading modestly lower so far in 2015 as of this writing, I think Zillow Group stock presents a perfect opportunity for patient, long-term investors to step in.
Related: The first investing strategy you should learn
5. Joe Tenebruso likes Google: With U.S. markets near all-time highs, many of the stocks I follow are trading at lofty valuations. I'm not afraid to pay a premium for quality, but I'd much rather buy an excellent business at a good price. Today, I believe we have one such opportunity with Google.
Google's stock is down about 4% over the last 12 months as skeptics focus on the threats posed by competitors such as Facebook and the potential loss of Google's position as the default search provider on Apple's Safari browser. While these threats are not to be taken lightly, I believe their potential impact is being overstated by some. Facebook's new video initiatives do make it a more direct rival to YouTube, but video is a massive and fast-growing market, and YouTube remains a clear leader. In addition, the loss of the default search position on Safari is by no means a certainty, and even if it were to happen, the actual hit to Google's business may be far less than many bears would have you believe.
More importantly, while the fear surrounding Google is granting us an attractive short-term entry point into the stock, I'm more focused on Google's long-term opportunities. Google remains the undisputed leader in Internet search in most areas of the world, and is constantly expanding its reach with an ever-growing array of services such as Google Play, Chrome, and Drive. And while Apple has been clawing back share of the smartphone market, Android remains the market share leader. Maybe most importantly, Google's culture of innovation helps it to remain at the vanguard of technological change.
Related: Warren Buffett says there's no stock market bubble
6. Tim Beyers likes TubeMogul: Advertising is a huge enough market that Google generates over $60 billion a year in revenue slinging digital ads, a business that barely existed a decade ago. (Google's 2005 revenue topped out at $6.1 billion.)
How does this relate to TubeMogul? We're still in the early stages of figuring out how to create consistent, effective, cross-channel online video ads. TubeMogul is leading the way forward with an analytics-powered buying engine that makes it easy for advertisers to take advantage of this growing medium.
What's more, because of the presence of online logins at YouTube, Vimeo, DailyMotion and more, digital video advertisers learn more about how consumers engage with pitches. Think of it as "Moneyballing" the ad buying process; every new campaign provides intelligence that leads to better targeting, better conversions, and more money for the enabling platform: TubeMogul.
We're already seeing gains. Revenue more than doubled in 2012, rose 67.5% in 2013, and 99.7% last year, S&P Capital IQ reports. Gross margins have expanded rapidly over the same period -- up from 52.1% to 70.3%. Finally, and perhaps most importantly, continued growth would strongly benefit co-founders John Hughes and Brett Wilson. Combined, they own over 11% of TubeMogul's shares outstanding. With so much invested in the company, it's a good bet that Hughes and Wilson will do everything they can to boost the stock -- for themselves and the shareholders invested alongside them.
These six investors write for The Motley Fool, which recommends Apple, Facebook, Google, Netflix, Nike, Priceline Group, Under Armour, and Zillow Group.