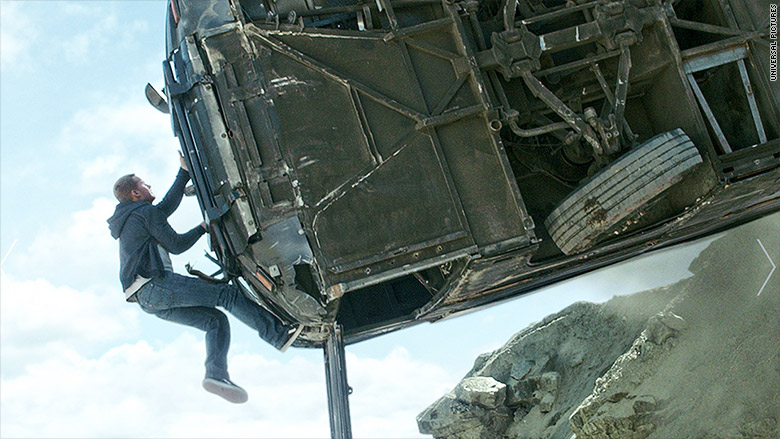 "Furious 7" had a massive $147 million debut at the U.S. box office over the weekend, but the automotive thriller is also speeding through box office records around the world.
The Universal picture starring Vin Diesel, Dwayne "The Rock" Johnson and Paul Walker, who died during production, pulled in an estimated $245 million at the international box office over the weekend, and was the #1 film in every territory where it was released.
Combining the U.S. and international totals, the film ended its first weekend with $391 million in ticket sales.
The film, which goes by the title "Fast & Furious 7" outside the U.S., represents Hollywood's third highest grossing international opening weekend ever. The only two bigger franchises are "Harry Potter and the Deathly Hallows: Part 2" and "Pirates of the Caribbean: On Stranger Tides."
"Furious 7" was also the highest-grossing global opening of 2015 to date.
Box Office Mojo called the $245 million total "incredible" -- "and that's without any help from China, Japan and Russia, where it will open in the next few weeks."
Related: 'Furious 7' races to record $147 million opening box office
Since 2001, "The Fast and the Furious" has been a growing franchise for Universal, the movie studio division of NBCUniversal.
It is now a $2.7 billion global brand.
And "Furious 7" is the biggest installment yet. Even though "Furious 7" is only a few days old, it currently sits third on the highest worldwide gross for the series, behind only 2011's "Fast Five" and 2013's "Fast & Furious 6."
And "Furious 7" is far from finished. The Russian opening is on April 9 and the Chinese opening is on April 12. Those markets could push the film toward $1 billion in worldwide ticket sales.