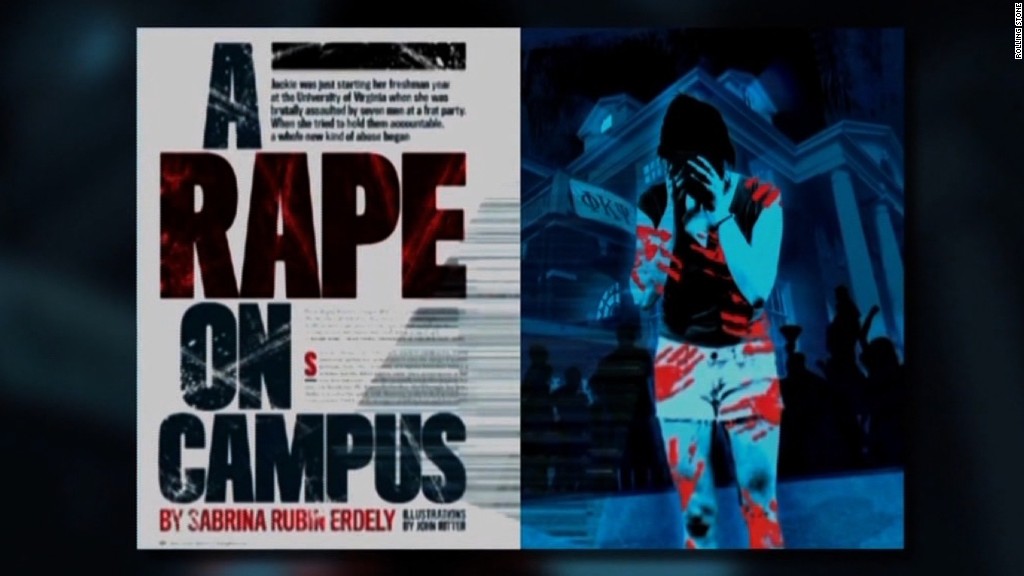 No one at Rolling Stone magazine is going to be fired: How can that be?
Rolling Stone wants the damning report by Columbia Journalism School to be a moment when the magazine begins to restore its battered reputation. But observers are asking if it can really do that without any punishment for staff members.
The report detailed the cascading failures in the writing, editing and fact-checking of "A Rape on Campus," the magazine's shocking account of a gang rape at the University of Virginia. Investigators have concluded that there is no evidence the rape occurred.
The reporter, Sabrina Rubin Erdely, and the magazine's top editor, Will Dana, say they are taking responsibility for the failures.
"These are mistakes I will not make again," Erdely said in a statement.
But Erdely will continue writing for Rolling Stone. Dana is standing by her, telling The Washington Post that "Sabrina's done great work for us over the years and we expect that to continue."
And Rolling Stone publisher Jann Wenner is standing by both of them.
Wenner did not respond to CNN's requests for comment about his decision. But according to people with direct knowledge of his thinking, he concluded that the publication of Columbia's report was essentially punishment enough.
Related: Columbia finds major 'failures' in Rolling Stone's rape story
Related: Three fatal failures in Rolling Stone's UVA rape story
The report certainly is embarrassing. That's why some journalists outside Rolling Stone are perplexed by the publisher's position.
"So no one gets fired and no policies change? No wonder so few trust us anymore," former NBC News investigative correspondent Lisa Myers wrote on Twitter Sunday night.
"What would Rolling Stone in its heyday write about an institution that screwed up unbelievably, damaged people's lives, but punished no one?" Politico's John Bresnahan tweeted.
Acclaimed scholar Clay Shirky concluded that "this wasn't a failure wasn't of process, it was a failure of competence, one big enough that Will Dana should resign."
"He won't, though," Shirky added. "Instead, he got Columbia to dress up Rolling Stone's failure. The Columbia report is thorough, but a distraction."
But what some might call ineptitude on the part of Rolling Stone, others might call a show of loyalty and a second chance for the staff.
Columbia journalism school dean Steve Coll, who led the review, pointed out in an interview with The Post that he found no outright dishonesty by Erdely or the editors -- no "inventing facts, lying to colleagues, plagiarism or such, that I would think of as grounds for automatic firing or serious sanction."
At a lunchtime press conference at Columbia on Monday, Coll was asked repeatedly whether he thought someone should be fired or if he would permit Erdely to write for him. He opted against engaging in hypothetical scenarios, saying that decision "belongs with Rolling Stone."
Sheila Coronel, the journalism school's dean of academic affairs who co-authored the report, agreed -- "we leave it up to Rolling Stone" to decide, she said.
Although disciplinary actions have apparently been ruled out, Rolling Stone has indicated that it may make behind-the-scenes adjustments.
When Dana was interviewed by Columbia's investigators, he said, "It's not like I think we need to overhaul our process, and I don't think we need to necessarily institute a lot of new ways of doing things. We just have to do what we've always done and just make sure we don't make this mistake again."
Coll and his fellow reviewers disagreed. It prescribed several possible changes to the magazine's processes, including restrictions on the use of pseudonyms.
In his apologetic editors' note on Sunday night, Dana said, "We are also committing ourselves to a series of recommendations about journalistic practices that are spelled out in the report."
Dana declined a CNN interview request on Monday morning by saying he was "talked out for now."
-- Tom Kludt contributed reporting.