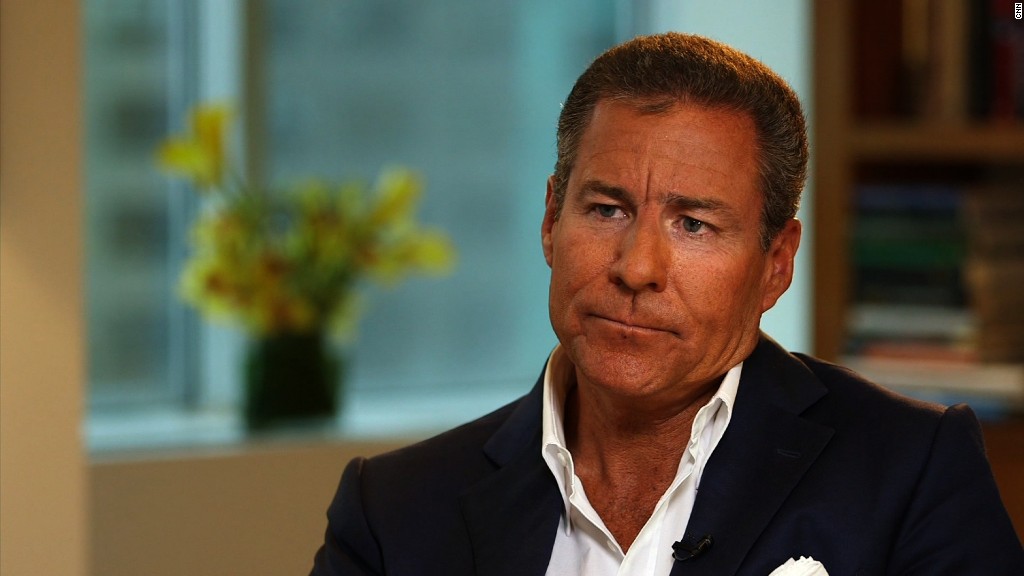 Starting Tuesday, you can buy an HBO subscription without having to pay for cable.
The premium cable channel's HBO NOW service started to welcome subscribers on Tuesday, a few days ahead of the channel's biggest premiere of the year, the new season of "Game of Thrones."
"We're making HBO available in as many ways as possible to our consumers," HBO CEO Richard Plepler said. "That's a win for the consumer, that's a win for our partners and that's a win for HBO."
In an exclusive launch day interview with CNNMoney, Plepler said he is "expanding the pie" by giving more people access to HBO.
The service costs $14.99 a month, and comes with a 30-day free trial. It is available through Apple TV, iPhones and iPads, as well as one major broadband Internet provider, Cablevision.
Plepler called the launch a "Herculean" effort by staffers at HBO; MLB Advanced Media, which is providing the streaming infrastructure; and Apple.
HBO set up a "command center" at the third floor of its midtown Manhattan headquarters to monitor the launch on Tuesday morning. MLB and Apple were in touch via a telephone conference bridge.
Plepler said he expects some "bumps in the road" as the service comes online. But MLB Advanced Media has extensive experience with web streaming. And HBO says engineers are ready for an expected surge of usage when "Game of Thrones" premieres on Sunday night.
HBO is a unit of Time Warner, one of the country's biggest media companies. This web site is also owned by Time Warner.
The launch also came with a brief humorous explainer of the service from the network's "Last Week Tonight" host, John Oliver.
"It's a lot like HBO Go except you don't have to rely on your parent's password," Oliver joked.
Tuesday's launch is a historic moment, accompanied by the sort of drama one usually sees on HBO shows like "True Detective" and "Veep" -- because HBO Now is a symbol of television's streaming future.
It is simultaneously thrilling and, for some media executives, slightly terrifying, because it alters the relationship between programmers and distributors.
Subscribers to HBO NOW still have to bring their own broadband Internet connection, but they don't have to pay for a cable bundle, so it is an example of "unbundling."
HBO announced its plans for an unbundled version of the channel late last year. HBO says it wants to attract young people who don't currently pay for a cable bundle, but would like to have live and on-demand access to its dramas, comedies, movies, talk shows and documentaries.
In the interview, Plepler referenced the "10 to 11 million broadband-only homes in the United States" that previously couldn't pay for HBO because the channel was bundled with cable.
"That was just too big an audience for us not to go after. That's part of what informed this," he said.
Plepler has taken to calling HBO NOW a "millennial missile."
He said he is confident that, contrary to fears about cord-cutting, HBO NOW will act as a kind of bait, luring young people into the television fold. Then some of them will sign up for bigger, more expensive bundles of programming.
Most people, he predicted, will continue to recognize the "tremendous value" that a cable bundle provides, and keep paying for it, rather than going broadband-only.
"This is not either-or," he said, adding, "If you and I are sitting here in five years, If you and I are sitting here in ten years, I think we're going to have big big businesses with Comcast and Charter and DirecTV and AT&T and Verizon and Cox and all of our partners, and we will have big businesses with Apple and other digital distributors as well. This is going to be an expansion of our business going forward, which his good for everybody. It is not a zero sum game."
He also had a clear message to HBO's traditional distributors like Comcast: "grow with us."
So far, only one of them, Cablevision, has agreed to sell HBO NOW through broadband.
"Our proposition to our partners is: use us. Grow with us. And we think the evidence is very clear and our research is very clear that that's what will happen."