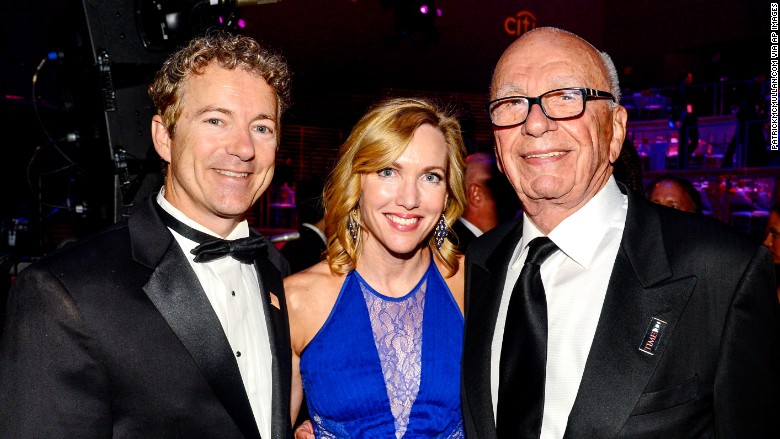 Rand Paul might have trouble courting some Republican voters who are wary of his foreign policy vision and unorthodox views on certain issues. But it doesn't appear that the junior Kentucky senator, who announced his presidential bid on Tuesday, will have to do much to win over Rupert Murdoch, the head of News Corp. and 21st Century Fox.
It's become something of a quadrennial tradition for Murdoch, the billionaire mogul whose observations on GOP politics are watched very closely within the party, to weigh in on the race for the White House. Two parts of his vast media empire -- Fox News Channel and the Wall Street Journal -- carry considerable influence in Republican circles. And Murdoch himself donated more than $32,000 to the Republican National Committee in 2014.
Earlier this year, Murdoch splashed cold water on another possible Mitt Romney presidential run, calling the 2012 Republican nominee a "terrible candidate" who had squandered his chance. Murdoch has spoken more positively about other potential candidates.
He likes former Florida Gov. Jeb Bush "very much," and he cautioned against writing off New Jersey Gov. Chris Christie, whose administration is still facing a federal probe into traffic lane closures on the George Washington Bridge in 2013.
And Murdoch is definitely flirting with Paul.
"I personally like Rand Paul very much, and I am very impressed by his brain," Murdoch said earlier this year at the Manhattan Institute.
Late last month, on the same day that Ted Cruz announced his White House bid and appeared on Sean Hannity's Fox News show, Paul was interviewed by Megyn Kelly.
The programming schedule did not escape the notice of Murdoch.
"Just saw Rand Paul on Megan (sic) Kelly show," he said on Twitter. "Smart move ahead of Ted Cruz on Hannity...Contest warming up early, danger folks get tired."
Related: Rupert Murdoch backs away from comment about Muslims
A prolific tweeter with nearly 570,000 followers, the 84-year-old Murdoch has repeatedly expressed his admiration for Paul in 140 characters or less. (Murdoch did not, however, share his thoughts on Paul's campaign launch on Tuesday.)
In August, as protesters clashed with cops in Ferguson, Missouri, the News Corp. CEO said Paul's call to demilitarize the police was "mighty interesting," although he wondered if it were practical.
A couple months later, Murdoch responded to someone on Twitter who suggested that Republicans need a "forward-looking, positive vision." Murdoch agreed, and tossed out a few names who he believed fit the bill: Rep. Paul Ryan, Bush and Paul.
Paul clearly covets Murdoch's approval. Last year, the senator invited Murdoch to the Kentucky Derby.
"I said absolutely," Murdoch said of Paul's invitation. "It's a good thing for me. He's a very interesting man."
Murdoch turned heads in 2008 when he praised Barack Obama as a "highly intelligent man with a great record at Harvard." And he was critical of Romney in 2012, expressing doubts in the former Massachusetts governor's ability to beat the president.
To that end, there is often as much -- if not more -- interest in who Murdoch doesn't like. Cruz, the first candidate to officially toss his hat in the 2016 ring, falls under that category.
At the Manhattan Institute earlier this year, Murdoch said that Cruz has shown "very questionable" political judgment. That wasn't the first time Murdoch questioned Cruz's acumen.
Back in 2013, as Cruz led a quixotic charge to defund the Affordable Care Act, Murdoch said that the Texas senator's "grandstanding will cost him long-term." In that same tweet, Murdoch contrasted Cruz's actions with a "smarter" and more "silent" strategy being employed by another Republican senator: Rand Paul.