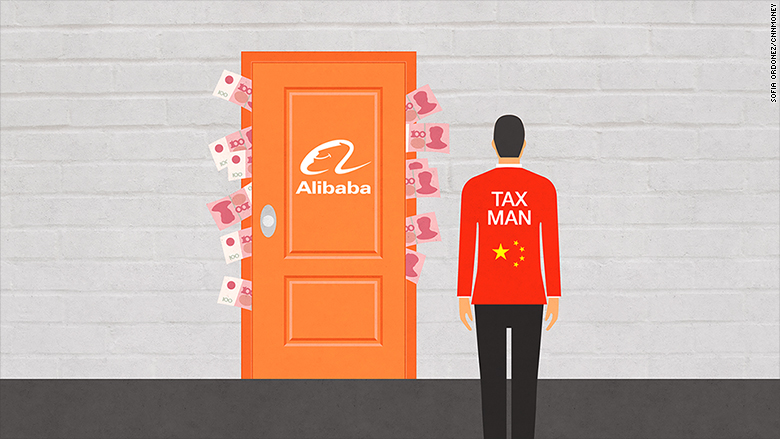 China stands to collect billions of dollars in taxes as Alibaba insiders unload shares held under lock-and-key since the tech firm's record-breaking market debut last year.
Two of the company's "lock up" agreements have now expired, releasing an additional 437 million shares for trading. Another 1.6 billion shares -- owned by co-founders Jack Ma and Joe Tsai and investors Yahoo and Softbank -- will be eligible to hit the market in September. Alibaba sold 320 million shares, or about 13% of the company, in its IPO.
During an IPO, companies can "lock-up" shares from trading for a certain amount of time to prevent major shareholders -- typically insiders like executives or venture capitalists -- from flooding the market in the initial trading period. Share prices sometimes drop before a "lock-up" ends, as investors worry about more stock hitting the market, thought it remains unclear what Alibaba's biggest stakeholders will do.
Together, these chunks of Alibaba stock represent 80% of the company. If they were sold at current prices, Alibaba (BABA) insiders would be in line for a whopping $165 billion payday.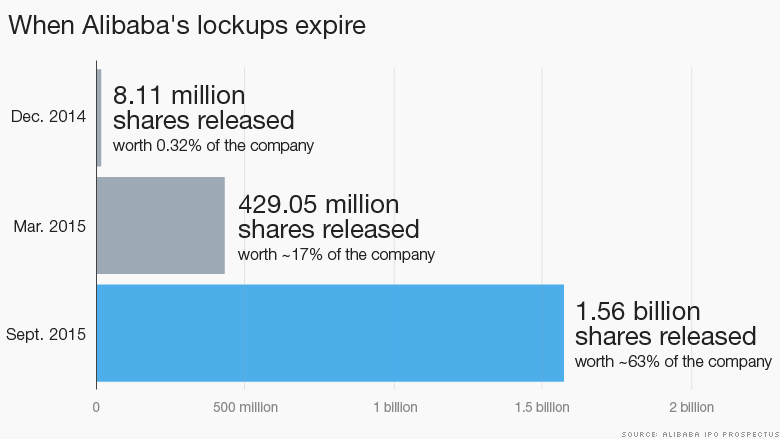 Experts say Beijing will definitely be looking to collect tax on that windfall.
"The size in terms of dollar amount is massive, and in terms of the number of people that benefited within the company is also very significant," said China tax specialist Clifford Ng, a partner at law firm Zhong Lun. "Obviously, the more high profile the company, the more likely that the government will have to make sure that taxes are collected properly."
China taxes its citizens on worldwide income, no matter where they live or work -- just like the U.S. The country has a progressive tax rate on employment-based income that ranges from 3% to 45%, and a capital gains tax that tops out at 20%.
But authorities have long failed to collect billions in taxes from rich Chinese who launder money overseas, find creative ways to hide income or move abroad.
Related: Beijing loses billions as rich skip taxes
Beijing is now cracking down on tax evasion as government debt continues to balloon. Last year, authorities recovered 172.2 billion yuan ($28 billion) from individuals engaged in criminal tax evasion, or roughly 1.7% of the government's total income tax revenue, according to the State Administration of Tax.
The government is also requiring firms like Alibaba that offer employee share incentive plans to register with the State Administration of Foreign Exchange (SAFE), a bureau that controls how much money flows in and out of China. Beijing even asks companies to report and withhold tax dollars based on those stock incentive schemes.
This helps the government keep tabs on Chinese firms that list overseas, because company ownership is essentially moving offshore, Ng said.
Alibaba spokesman Bob Christie confirmed that the company was complying, saying the firm "withholds capital gain tax on the capital from share sales [that] can be repatriated back to China through a channel stipulated by SAFE."
Employees who participated in a share incentive plan were also required to register with SAFE once the company went public, according to Alibaba's IPO prospectus.
"Through public filings by the listed companies, and the reporting required ... the State Administration for Tax has a pretty good handle on who should pay what," Ng said. "Perhaps more so than any other country, because so many Chinese companies list overseas."
Read next: Who the heck is Jack Ma? Meet the man who built Alibaba