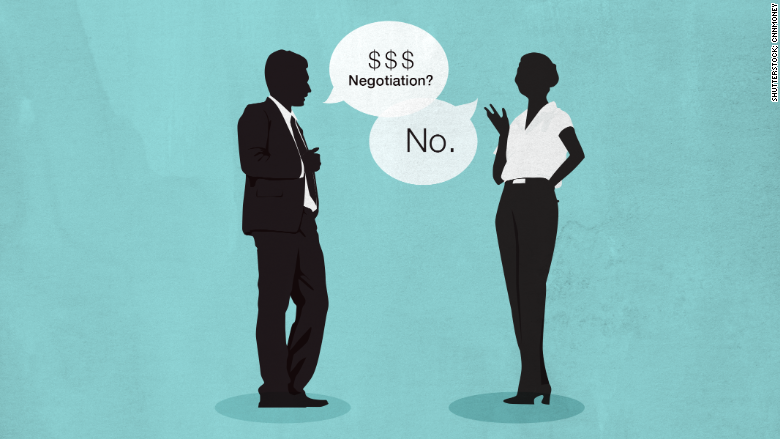 Salary negotiations are a common part of the hiring process -- but are they actually a form of gender bias?
That's what Reddit believes, and part of what inspired the company, under interim CEO Ellen Pao, to eliminate them.
Pao recently lost a high-profile sex discrimination suit against former employer Kleiner Perkins, and this is just one of several efforts to increase diversity at Reddit.
Some studies have found that women tend to be intimidated by the negotiating process compared to their male counterparts.
A recent UC Berkeley study found that gender stereotypes during negotiations can play out in other ways, too.
"Women are far more likely to be lied to in negotiations," said Laura Kray, one of the study's authors. "It's not inconceivable that, in asking for a concession, [women] aren't going to be given a fair response. This is one step in the right direction."
Reddit's move is rare, according to Joelle Emerson, who heads up Paradigm, a tech diversity consultant firm.
"I do think it's one strategy that could work to minimize pay disparities," said Emerson, who was quick to note that it's important to understand how salaries are set.
Related: Biased job ads -- This startup has a fix
Is it based on the individual's past salary? If so, that could perpetuate pay inequity.
"Reddit provides fair market salaries to provide all candidates with a more level playing field," said a Reddit spokeswoman in an email. "They do negotiate to convert cash to equity if they want more equity and lower salary."
Vaibhav Mallya runs OfferLetter.io, a startup that helps engineers and tech workers negotiate their worth. He has mixed feelings about the policy, but has seen female clients be less likely to ask for more money.
"Executing these policies in practice takes finesse and efforts," said Mallya, 26, who is an engineer. "This could backfire."
Mallya said Reddit's decision to allow for negotiation of cash versus equity raises questions: "How much? How little? It doesn't say. This itself is a kind of negotiation."
In a post on Quora, he elaborated, writing that Reddit's new policy required candidates to take a company at its word -- "and every company claims they're going to make a fair, standard offer."
Reddit did not comment on whether candidates are able to negotiate other benefits like vacation.
Related: 9 reasons to be hopeful about the future of tech
Both Mallya and Emerson say pay transparency is key to eliminating bias in companies.
"Transparency has to be attached," said Mallya, who said few companies have successfully done so. He cited Buffer as one of the few positive examples. The social media scheduling firm introduced an open equity platform one year ago.
"Every new hire should be seeing what most of the rest of the company is making, and other people in their org and level," wrote Mallya.
As a workaround, his startup recently launched Offer Drive, a means to democratize access to compensation data. Employees can confidentially submit job offers to find out if they're getting paid fairly.
"You can tweak the variables, but you need strictness and transparency," he added.