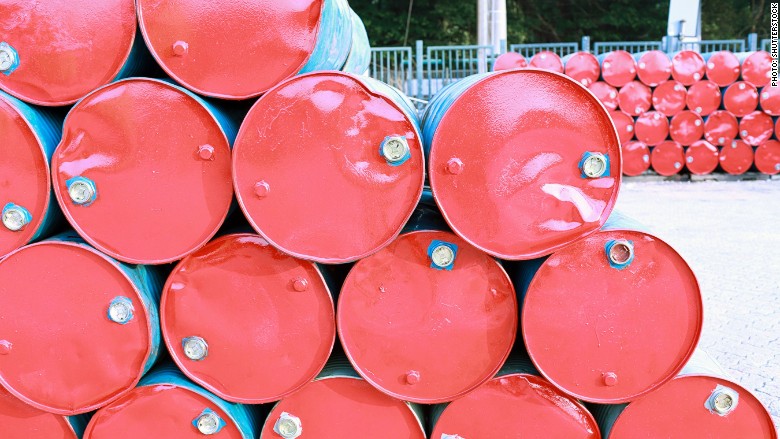 Don't bank on a dramatic comeback for energy stocks.
That's the message from Jeffrey Gundlach, the so-called king of the bond markets.
A gigantic supply glut has caused oil prices to tumble to just $52 a barrel today. That's down a whopping 51% from a June peak of $107.
The oil crash has led to disappearing profit margins and job cuts.
However, Gundlach noted that the Energy Select Sector SPDR (XLE) exchange-traded fund is down way less than oil. It's currently off just 20% from its summer high.
"The price of energy stocks makes no sense to me. It hasn't dropped nearly enough," Gundlach said during a webcast on Tuesday evening.
Related: U.S. companies kill over 51K oil jobs
One of the reasons why energy stocks haven't crumbled more is the belief in some corners that oil prices will rebound.
"Too many people think it's cute to make a distressed play on energy," said Gundlach, founder of DoubleLine Capital, which has over $63 billion in assets under management.
He warned that such a strategy can easily backfire.
"Usually the people who buy because they think it's clever end up selling to other people at a lower price," Gundlach said.
Related: Shell inks $70B deal as Big Oil gets even bigger
Shale stocks are down more: It's worth pointing out other, less diversified energy ETFs have fallen more from their peaks.
For example, the Market Vectors Oil Services ETF (OIH) has tumbled nearly 40%. Its top holdings include Schlumberger (SLB), Halliburton (HAL) and Baker Hughes (BHI). All three servicing companies have been slammed as operators have halted work to negotiate lower contracts.
The Market Vectors Unconventional Oil & Gas ETF, (FRAK) which owns companies in shale oil like Anadarko Petroleum (APC) and Apache (APA), is down 35% from its peak.
Related: Oil is best investment right now: private-equity CEO
No $90 oil this year: Gundlach's caution on energy stocks doesn't mean the bond king is royally bearish on oil prices. On the contrary, Gundlach believes oil may have found a bottom.
Currently trading at $52, crude has surged roughly 20% since sinking as low as $43.46 in mid-March.
Even so, Gundlach doesn't believe the oversupply problem that caused crude to crumble will fix itself overnight.
"There's too much belief that oil will bounce back to $90 by the end of this year," he said.