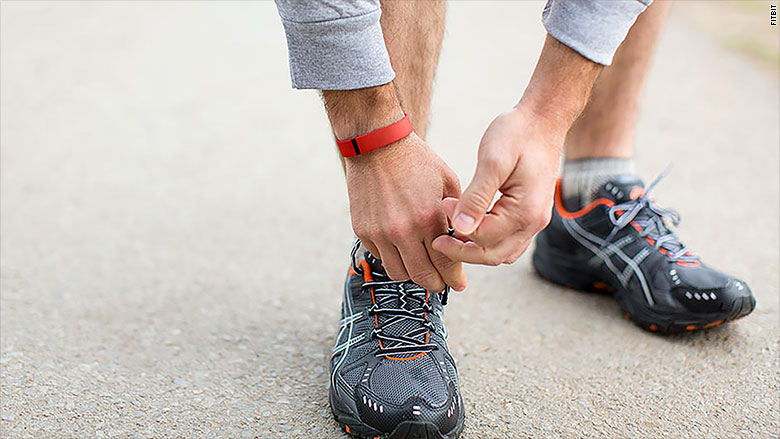 For the first time ever in the United States, a life insurance company is offering a discount -- if you're willing to let it track your health, location and body.
It was only a matter of time.
It's increasingly popular to wear a fitness tracker that measures your footsteps, heart rate or body movements. Now, the life insurance company John Hancock is offering deal if you'll wear one: 15% off in some cases.
The company unveiled its optional, new program Wednesday morning. John Hancock is partnering with Vitality, which many people probably know as one of those work-related wellness programs. The program is available in 30 states.
If you sign up for this, John Hancock will send you a free Fitbit monitor. That's a tiny, pill-shaped device that some people wear in sleek-looking bracelets to track how far they walk/run, the calories burned, and the quality of sleep.
That means the insurance company would know exactly when a customer does a sit-up, how far she runs -- or when she's skipped the gym for a few days.
The program works like other "customer rewards" programs at restaurants and retailers. Your actions earn points that place you in one of three levels -- silver, gold or platinum.
The healthier your lifestyle, the higher you go, and the steeper the discount. And it changes as your health data gets analyzed.
Points can also qualify customers for discounts at Hyatt (H) hotels, Royal Caribbean (RCL) cruises, Whole Foods (WFM) grocery stores, and REI outdoor gear stores.
"We're introducing a whole new approach for life insurance that rewards and recognizes people for healthy living," said Mike Doughty, John Hancock's president, at a presentation in New York City on Wednesday.
First, the upside: That 15% discount might amount to about $91 a year. Life insurance is generally much cheaper than health insurance, and this program could make it even less expensive.
But it's not much of a reward for wearing a leash all year.
That's based on data from independent insurance agents at Trusted Choice. Industrywide, the average cost of a $500,000 term life insurance policy for a 65-year-old, non-smoking man is $611. It's slightly cheaper for women of the same age, so the savings are smaller.
At Wednesday's event, Vitality marketing executive Tal Gilbert said people are hard-wired for short-term rewards, rather than things that have a longer term impact.
"The idea is to give you much more immediate payoff," Gilbert said.
It's the insurance industry's way of trying to incentivize people into buying life insurance.
But there are immediate privacy implications.
First, the pendulum swings both ways. If you don't exercise that tracker will rat you out -- and you'll lose the discount. Trackers are simply a way for insurance companies to more accurately judge you. And as they get more accurate (measuring cholesterol, blood sugar levels), so will the judgment.
Second, that personal data -- your heart rate, preferred exercises, what gym you visit and when -- ends up on insurance company computers. And these databases are a target for hackers, who steal this information and sell it on the black market to identity thieves and fraudsters.
This past winter, insurance giant Anthem was hit by massive data breach when hackers snuck into its computers. Shortly after that, the large American insurer Premera revealed that hackers broke into its computer systems too -- and that of Vivacity, a work wellness partner.
John Hancock marketing executive Brooks Tingle told CNNMoney the company and Vitality would not sell or share health data to any other entity. He also said it would live encrypted on company computers inside the United States.