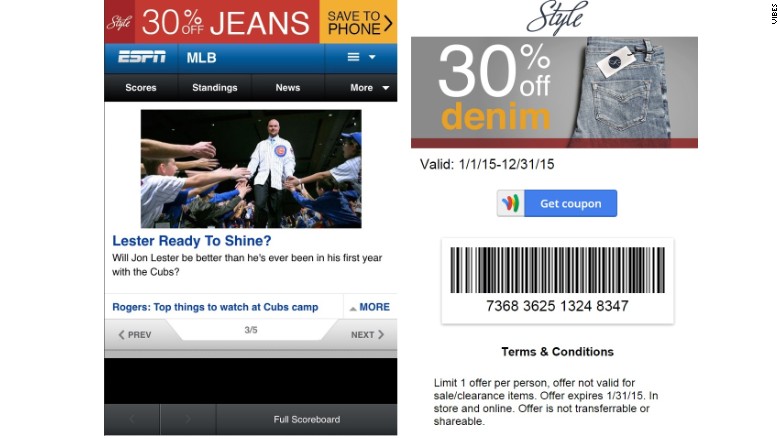 A new kind of mobile ad promises a future in which you'll never have to clip or print another coupon.
Vibes, a mobile marketing technology company, has developed a way for retailers to turn the ads they run on your smartphone into coupons -- no additional apps needed.
When you tap these ads, which are marked with "Save to phone," you can store an offer to your Apple (AAPL) Passbook or Google (GOOGL) Wallet for future online purchases. Some coupons have a traditional barcode that can be scanned in stores.
For advertisers, this is a new way to hook potential customers.
And the offers serve as a doorway to information about customers' interests and behaviors -- data that can be used for future ad targeting. For instance, if smartphone users have location tracking enabled, they can receive alerts when they walk by a store they have a coupon for.
Vibes' new mobile wallet ads also allow marketers to interact with customers through notifications. Once a promotion is pocketed to Passbook or Google Wallet, companies can update their offers, or promote their own apps and other content. When a coupon is about to expire, an advertiser can choose to increase the discount or extend the offer, and even circle the new expiration date.
Once you save a coupon, it can keep updating until you delete it. According to Vibes, iPhone and Android customers never delete a whopping 90% of the promotions that they saved on their phones.
Ultimately, Vibes wants to help marketers understand the effectiveness of their online advertising campaigns. Which discounts, graphics, and text lead to clicks? Which lead to redemption and purchase?
"We have a connection into [retailers'] point of sale to see if the loop is closed," Vibes' CTO John Haro told CNNMoney. "What we're providing is the scale."
Although shoppers might enjoy the simplicity and benefits of the digital coupons, they should also remember this is yet another way for advertisers to collect data about them.
Haro said the only information his company can see is what kind of phone is being used, whether someone has seen an ad, or clicked, saved, removed, or deleted it. But other user data, including social media profiles (if the ad is placed within Facebook's News Feed, for example) and location, are passed on to the companies paying for the ads.
So before clicking and saving, consumers should weigh the true value of a discount -- whether that 20% is worth more data tentacles in their phones.
Vibes' mobile wallet ads are still fairly new, so the company says it can't name the retailers currently using the technology. At the same time, the company says it's helping Men's Wearhouse (MW), Gap (GPS), Pep Boys (PBY), Sears (SHLD), Home Depot (HD), and Old Navy with their existing Passbook and Google Wallet promotions.
A spokeswoman for Vibes says the company is also in "in various stages of partnership talks" with "most" leading ad networks, ad servers, and ad agencies.